Get pro feedback on your photos in...
Boot Camp for New Digital SLR Owners
Become a better photographer today!
This 2-week online course will take the mystery out of the DSLR camera's essential modes and overrides. Whether it's an entry-level or more advanced camera model, it's likely to be very versatile, fast, and capable of excellent image quality. While you could use it in the green AUTO mode, this class will get you shooting with the more versatile modes, using basic overrides for greater control. Naturally, trying to fight your way through the owner's manual can be very frustrating. This entry-level course is taught by pro photographer Peter K. Burian, who tests cameras of all brands for photo magazines.
Key Features
Introduction to SLR cameras' benefits, modes and overrides
Controlling aperture, shutter speed, exposure, white balance, ISO and autofocus
Benefits of shooting JPEG photos, with an introduction to the RAW format for greater control with software
Worthwhile lenses and other accessories to consider for the future
NOTE: This online course runs 2 weeks and is fully interactive with your pro instructor!
For first-time owners of a digital SLR cameras of any brand. Build on the experience you gained with a point-and-shoot camera and move to the next level of control.
Master the semi-automatic modes and the essential overrides to get stunning images.
Begin by shooting JPEGs and advance to shooting RAW format photos.
Get advice on the specific lenses and accessories you should consider for greater versatility in future.

$99.00 USD
What You Get
Benefits:
You get direct feedback on your photos from world-acclaimed, professional photographers. You can learn photography in this way from anywhere in the world.

Learn at your pace, with structure.

Be guided by a real pro instructor.

Get your photos critiqued every week.

Join students from around the world.

Go far beyond any book or DVD.

Make great pictures, again and again!
Instructor
Peter K. Burian
Peter K. Burian, Photo Journal Syndicate (www.peterkburian.com), is a freelance photographer based in Toronto, Canada. His outdoor, travel, nature and active lifestyle photographs are available as stock for editorial and advertising use. He markets his work direct to photo buyers via
www.peterkburian.com
and is also represented by three stock agencies: Corbis, Alamy and The Stock Connection.
Peter Burian also writes illustrated books about photography and camera equipment, including:
Co-author of the National Geographic Photography Field Guide.

Author of 15 Magic Lantern Guides to SLR camera systems.

Author of Mastering Digital Photography and Imaging (Sybex), covering the technology, equipment and techniques, with 270 pages of practical advice

In his spare time, he is a Contributing Editor with Photo Life, Photo News and Australian photography magazine. Finally, Peter Burian is a BetterPhoto.com course instructor who teaches two online photography courses:
Mastering the Digital Camera and Photography
and
Mastering the Canon EOS Digital Rebels
. Sign up today to learn how to make great photos with your digital camera!
Sample Photos by the Instructor
| | |
| --- | --- |
| © Peter Burian | © Peter Burian |
Course Outline
Lesson 1: Introduction to Your Digital SLR Camera
An overview of shooting modes and primary controls with recommendations on setting up your camera for taking great digital photos without complexity. You'll learn the benefits of the two semi-automatic modes and the overrides for exposure (image brightness), and ISO control (for picture-taking in dark locations). This lesson takes a problem-solving approach, providing tips as well as practical solutions for getting the best results in difficult shooting conditions.
Using the semi-automatic modes, you'll find it easy to make images with a sharp or blurred background and the right depiction of motion: as "frozen" (sharp) or blurred for creative effects. Throughout the lesson you'll find a great deal of practical advice as well as problem-solving tips.
Assignment: First, you'll shoot the same scene with different settings to fully appreciate the difference they produce in background blurring (depth of field.) Then, you'll try exposure compensation, an important override that can provide nice bright photos in difficult conditions.
Lesson 2: The Best Features, Techniques and Accessories
In this lesson, we'll build on the basics discussed earlier for greater technical and creative control. The right techniques and camera controls will allow you to make images that are technically and visually excellent. We'll discuss techniques and camera features for moving subjects (sports or active children) with a problem-solving approach, to achieve the intended results. Finally, we'll work with White Balance and flash, using the most valuable features.
In addition to shooting JPEGs as with a point-and-shoot camera, a digital SLR allows you to also shoot in the RAW format. We'll discuss the benefits of this alternative and how you can start using software (packaged with your camera) to achieve the desired effects while retaining full image quality.
Digital SLR camera owners always want advice on the most useful accessories including the various types of lenses and external flash units. You'll get that, with specific recommendations as to the most suitable second and third lens that you'll want in future. As a bonus, you'll find practical advice about the one filter (circular polarizer) that every Digital SLR camera owner needs.
Assignment: You'll practice with White Balance control to make photos with pleasing color balance under difficult lighting conditions indoors. Then, you'll try flash photography outdoors on a bright day, to learn the value of this technique in making more professional-looking photos.
| | |
| --- | --- |
| © Peter Burian | © Peter Burian |
Requirements
Own a Digital SLR camera that accepts interchangeable lenses and other accessories. (However, only the camera, one lens and the built-in flash are necessary.)
The course lessons cover cameras of all brands, since they refer to standard modes, functions and overrides available with all digital SLRs.
A basic working knowledge of camera controls and some digital shooting experience from previous use of a point-and-shoot camera.
No special image-editing software is required; the software included with SLR camera kits is fine for getting started.
FAQ
Can I take this class even if I don't own a digital SLR camera?
No, because the course is so heavily oriented to these cameras, their specific features, their specific controls and their RAW format options. If you do not yet own a digital SLR camera, perhaps you can borrow one.
Do I need any particular software program to take this course?
No. This class will primarily focus on the camera and its essential features. The discussion about software for modifying RAW format photos, will refer to the program that's included in the camera kit. (You'll find the software on the CD that's packaged with the camera; it's worth installing in your computer.)
I have owned a digital SLR camera for a couple of months and I am getting good results. Why should I take this course?
If you are 100-percent happy with your ability to control the camera - and the images you are getting - then you may not need this course. If, however, you really like your camera, but you still have lingering questions or have specific problems with some aspects of its operation, then this course can help.
What about skill level?
We assume that you want a course that explains controls in a logical, practical manner. A basic working knowledge of using a previous (simpler) digital camera is the only pre-requisite. Naturally, a bit of experience in uploading photos to a Website is important; a friend or family member may be able to help you to upload photos to the course pages for critiques of your pictures.
| | |
| --- | --- |
| © Peter Burian | © Peter Burian |
Do I have to be online at any specific time?
No, you do not need to be online at any specific time. The lessons are sent to your email and you are also provided the Campus Square - where you interact with your classmates and instructor. This is also where you upload your photos to be critiqued by your instructor. The instructors are very punctual and respond quickly.
Will I have access to the instructor to ask questions during the photo course?
Absolutely! Students can ask questions in the special Q&A forum set up in the course's Campus Square, or can ask the instructor via email.
Do you offer a money back guarantee?
Yes. We are confident that you will fully enjoy our courses. All the same, for our 8-week classes, we offer a 100% money-back guarantee before the Wednesday that Lesson #3 is sent out. If for any reason, you are not satisfied and let us know that you would like to withdraw before the Wednesday that Lesson #3 is sent, you will be promptly refunded.
For our 4-week courses, we offer a 100% money back guarantee before the Wednesday that Lesson #2 is sent out from BetterPhoto. If for any reason you are not satisfied and you let the ordering department know that you would like to withdraw before the Wednesday that Lesson #2 is sent, you will be refunded within 7 days. After the second lesson has been sent out, no refunds will be given.
Still have questions about this course?
Ask Us
Take the Next Step..
You can Get Started Today! The price is
$99.00
USD. Do this to start the class right away.
Add to Cart
today to get going in the class.
Add to Wishlist
---
Satisfaction Guaranteed!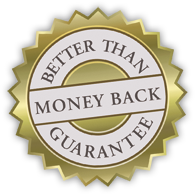 Better Than Money Back Guarantee
We Guarantee our courses.
100%, No Risk, No Hassle.
See you in class!