Get pro feedback on your photos in...
Photography for the Weekend Warrior
Become a better photographer today!
In this fun and informative two-week online class, you'll learn great tips for planning a short photo trip and for capturing various travel subjects over the course of a weekend. The author of Photos That Inspire Photo Workshop and a former editor of Petersen's PHOTOgrapic magazine, Lynne Eodice shares her techniques on photographing many types of travel subjects – including beaches, canyons, deserts, mountains, and cities - and reveals how she shoots her own favorite weekend destinations. She'll also discuss how to shoot in various lighting and weather conditions. In just two lessons, you'll learn how to approach a variety of travel subjects and come home with memorable images.
Key Features
Learn how to shoot a diversity of exciting travel subjects.
Favorite weekend getaways - specific travel destinations and how to shoot them.
For anyone who would like a comprehensive course on how to photograph a variety of travel subjects on a brief excursion.
Receive expert instruction and guidance, along with personal feedback to enable you to capture better images.
Shooting tips for various lighting and weather conditions. Learn how to create a visual travel journal.

$99.00 USD
What You Get
Benefits:
You get direct feedback on your photos from world-acclaimed, professional photographers. You can learn photography in this way from anywhere in the world.

Learn at your pace, with structure.

Be guided by a real pro instructor.

Get your photos critiqued every week.

Join students from around the world.

Go far beyond any book or DVD.

Make great pictures, again and again!
Instructor
Lynne Eodice
The author of
Photos That Inspire,
Lynne Eodice teaches a number of excellent online classes for BetterPhoto.com (see the current course listing below.) She is also the former Feature Editor for Petersen's PHOTOgraphic.
A native of Southern California, Lynne was educated at Pasadena City College and Cal Poly Pomona. Her love of photography began after her husband gave her a 35mm SLR as an anniversary gift. She began her career as a feature writer & photographer for local newspapers that included Pasadena Weekly and The Herald Tribune.
Besides having articles and photos published regularly in PHOTOgraphic, she has contributed to Rangefinder, Digital Photographer and California Tour & Travel, as well as PHOTOgraphic's Buyer's Guide, Big Book of Photography and Family Photo magazines. Her images have appeared in a popular instructional book called The Complete Idiot's Guide to Photography, and she has marketed her stock photos through Index Stock Imagery in New York.
Lynne has exhibited her fine-art scenic photography at Kolb Studio and the visitor's center at Grand Canyon National Park in Arizona, at Occidental College in Eagle Rock, California, and at venues throughout the San Gabriel Valley. In addition, she has taught many classes, seminars and workshops.
In the fall of 2007, she was honored as one of the Women Achievers in the San Gabriel Valley in Business Life magazine.
Lynne currently lives with her husband, Dennis and their dog, Chiquita in Altadena, California.
Sample Photos by the Instructor
| | |
| --- | --- |
| © Lynne Eodice | © Lynne Eodice |
Course Outline
1. Photographing Popular Travel Subjects
This lesson will explore ways to photograph subjects that you may find on weekend outings. We'll begin with a checklist of what equipment to bring, the advantages of traveling light, and the value of doing research on what you want to photograph and the best times to shoot these subjects. From there, we'll discuss tips for shooting subjects that include mountains, beaches, small towns and big cities, deserts, canyons, and people in scenery.
Assignment: Submit 4 images of some of your recent weekend travels, and describe what techniques you used to get the shot.
2. Your Favorite Weekend Getaways
I will discuss some of my favorite weekend travel destinations, and how I have photographed them, including Las Vegas, NV, Sedona, AZ, San Francisco, CA, Santa Fe, NM, Yosemite, CA, rugged coastlines, and desert scenery. I will also cover tips on shooting in various lighting and weather. We'll look at the importance of creating a visual weekend travel journal.
Assignment: Submit 4 or 5 images of your favorite weekend destinations, which reveal why they're special and unique to you.
| | |
| --- | --- |
| © Lynne Eodice | © Lynne Eodice |
Requirements
A digital SLR camera is preferred, although a compact "point-and-shoot" digital camera with selectable controls is also acceptable.
A few lenses (or a built-in zoom lens) ranging from wide-angle to telephoto focal lengths are recommended.
A tripod is strongly recommended.
An accessory flash unit is suggested, but not required.

FAQ
Who is this course intended for?
Beginners, burgeoning pros, and other photo enthusiasts who have some experience with their camera can take this class. Anyone who loves shooting travel photos is welcome!
Will this course include instruction on image editing?
No, but image submissions that are edited in Photoshop, Lightroom, or other image editing programs are acceptable.
Why should I take this course?
If you love shooting scenic and other travel subjects, but have only a limited time in which to travel, you'll benefit from some of these techniques and tips that are geared towards weekend (or very brief) trips. I have very tight time restrictions, but have found short periods of time to get on the road and shoot pictures – I hope you'll benefit from my experiences.
| | |
| --- | --- |
| © Lynne Eodice | © Lynne Eodice |
Do I have to be online at any specific time?
No, you do not need to be online at any specific time. The lessons are sent to your email and you are also provided the Campus Square - where you interact with your classmates and instructor. This is also where you upload your photos to be critiqued by your instructor. The instructors are very punctual and respond quickly.
Will I have access to the instructor to ask questions during the photo course?
Absolutely! Students can ask questions in the special Q&A forum set up in the course's Campus Square, or can ask the instructor via email.
Do you offer a money back guarantee?
Yes. We are confident that you will fully enjoy our courses. All the same, for our 8-week classes, we offer a 100% money-back guarantee before the Wednesday that Lesson #3 is sent out. If for any reason, you are not satisfied and let us know that you would like to withdraw before the Wednesday that Lesson #3 is sent, you will be promptly refunded.
For our 4-week courses, we offer a 100% money back guarantee before the Wednesday that Lesson #2 is sent out from BetterPhoto. If for any reason you are not satisfied and you let the ordering department know that you would like to withdraw before the Wednesday that Lesson #2 is sent, you will be refunded within 7 days. After the second lesson has been sent out, no refunds will be given.
Still have questions about this course?
Ask Us
Take the Next Step..
You can Get Started Today! The price is
$99.00
USD. Do this to start the class right away.
Add to Cart
today to get going in the class.
Add to Wishlist
---
Satisfaction Guaranteed!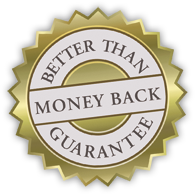 Better Than Money Back Guarantee
We Guarantee our courses.
100%, No Risk, No Hassle.
See you in class!