Get pro feedback on your photos in...
A Quick Start to Adding More 'Pop' to Your Images
Become a better photographer today!
Learn how to achieve real visual impact in your photography. We all look at our images and, at one time or another, see that even though the exposure and aperture are good, and the color is good, that the image is still blah. There are many ways to beef up an image. In this 2-week Quick Start course, pro instructor Tony Sweet will help you see how a Raw file is transformed, by several methods, into an image with visual impact - aka, "Pop!"
Key Features
NOTE: This interactive online course runs 2 weeks!
Increasing contrast
Insider moves by established Photoshop gurus
Application of Nik software filters
Application of Topaz Detail plugin
$99.00 USD
What You Get
Benefits:
You get direct feedback on your photos from world-acclaimed, professional photographers. You can learn photography in this way from anywhere in the world.

Learn at your pace, with structure.

Be guided by a real pro instructor.

Get your photos critiqued every week.

Join students from around the world.

Go far beyond any book or DVD.

Make great pictures, again and again!
Instructor
Tony Sweet
After 20 years as a professional jazz artist, Tony changed careers and directed his creative juices towards nature photography. The improvisational, spontaneous, and abstract nature of jazz are also integral elements of nature photography.
Today, Tony's work is published worldwide and is represented by The Getty Picture Agency.

Tony conducts his "Visual Artistry" photography and digital printing workshops from March through October throughout the continental United States and Canada. Tony's articles and photography are featured in Shutterbug and Rangefinder magazines, and as contributor to Nikonnet.com. He's also a columnist for Nikon World Magazine.

He has authored three books on the art of photography: Fine Art Nature Photography, Fine Art Flower Photography, and Fine Art Photography: Water, Rain, Fog. All are published by Stackpole Books.
He maintains an active speaking schedule on the subjects of nature and flower photography and marketing, addressing professional photography organizations, universities, seminars, and workshops.
Tony is on the instructor staff of BetterPhoto.com, and is a member of the Baltimore chapter of ASMP. And he has been named a Nikon Legend Behind the Lens and is a charter member or nikSoftwares TeamNik!
To learn more about Tony, visit his Web site:
Sample Photos by the Instructor
| | |
| --- | --- |
| © Tony Sweet | © Tony Sweet |
Course Outline
Week 1: Three Methods to Make Your Photos 'Pop'
Through text and before-and-after photo sequences, you'll learn three techniques to achieve "pop" in your photos. These cover contrast and saturation. Plus, this lesson covers tips on getting the proper exposure, which is the best first step in the process.
Assignment: To show the instructor that you have a grasp of each concept, put together sets of "before and after" images.

Week 2: More Software Maneuvers to Add 'Pop'
This lesson features some of the more esoteric software techniques. One is applied to the image at the end of the processing stage to add one more subtle, but powerful layer of contrast. The other technique involves one of the favorite methods of sharpening used by Photoshop professionals.
Assignment: Create before-and-after sequences for each technique.
| | |
| --- | --- |
| © Tony Sweet | © Tony Sweet |
Requirements
Images, already shot or newly created, that are a bit lackluster
Photoshop or the latest Elements.
Nik color Efex Pro and Viveza, and Topaz Detail 3. (Free trial downloads are available through Nik Software and Topaz Labs.)
Curiosity, like..."let's see what happens if..."

FAQ
Is this course intended only for intermediate/advanced photographers or can beginning photographers take part too?
This course is open to any photographer who wants to learn more about how to make their images "pop." But, you should have a working knowledge of Photoshop and layers.
What are the requirements for the course? What equipment will I need to complete the projects?
Students should have a working knowledge of image editing software such as Photoshop, or any other software that can work in layers.
What about other software?
Yes, Nik color Efex Pro and Viveza are required, as is Topaz Detail 3. Free trial downloads are available from Nik Software and Topaz Labs.
Is is okay with you if we submit previously created work for critique? Or do we have to shoot new images each week?
You can submit previously created work as this course is all about using software to increase the visual impact of your image.
Can I use photo imaging software such as Photoshop?
Yes, it is preferred, but Elements can be used as long as it can work in layers.
| | |
| --- | --- |
| © Tony Sweet | © Tony Sweet |
Do I have to be online at any specific time?
No, you do not need to be online at any specific time. The lessons are sent to your email and you are also provided the Campus Square - where you interact with your classmates and instructor. This is also where you upload your photos to be critiqued by your instructor. The instructors are very punctual and respond quickly.
Will I have access to the instructor to ask questions during the photo course?
Absolutely! Students can ask questions in the special Q&A forum set up in the course's Campus Square, or can ask the instructor via email.
Do you offer a money back guarantee?
Yes. We are confident that you will fully enjoy our courses. All the same, for our 8-week classes, we offer a 100% money-back guarantee before the Wednesday that Lesson #3 is sent out. If for any reason, you are not satisfied and let us know that you would like to withdraw before the Wednesday that Lesson #3 is sent, you will be promptly refunded.
For our 4-week courses, we offer a 100% money back guarantee before the Wednesday that Lesson #2 is sent out from BetterPhoto. If for any reason you are not satisfied and you let the ordering department know that you would like to withdraw before the Wednesday that Lesson #2 is sent, you will be refunded within 7 days. After the second lesson has been sent out, no refunds will be given.
Still have questions about this course?
Ask Us
Take the Next Step..
You can Get Started Today! The price is
$99.00
USD. Do this to start the class right away.
Add to Cart
today to get going in the class.
Add to Wishlist
---
Satisfaction Guaranteed!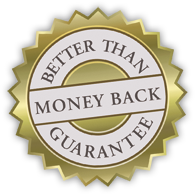 Better Than Money Back Guarantee
We Guarantee our courses.
100%, No Risk, No Hassle.
See you in class!