Get pro feedback on your photos in...
Landscape Photography
Become a better photographer today!
Learn exciting new techniques for capturing dynamic landscape images. For many of us, landscapes are the foundation of photography. From Ansel Adams's dramatic b/w photos to more contemporary color scenes that are recorded with digital cameras, landscapes are an expression that most photographers turn their attention to at one time or another. In this class, top pro Doug Steakley will help you develop your personal vision and discover new ways of seeing. From the Rule of Thirds to photographing star trails, this course covers a wide range of landscape possibilities and combines technical assistance with refining your personal expression.
Key Features
Introduction, Camera Settings and Rule of Thirds
Use Perspective - Foreground, Middle Ground and Background
Look For and Use Leading Lines, Reflections and Repetition
Find and Photograph in The Best Light
The Intimate or Mid-Range Landscape
Moving In Closer
Twilight and Night Landscape Photography
Develop Your Personal Vision
For serious amateurs, intermediate and advanced photographers.
You will learn the importance of developing a personal vision or expression so that your landscapes become distinct and unique.
This course covers the basic tenets of landscape photography and then moves into mid-range and close up photography and to a separate lesson on photographing at night with long time exposures.
The final lesson is about developing a personal vision so that you can create a portfolio of images, which share common elements. The development of a portfolio is important for approaching galleries, magazines or stock agencies, as well as developing your personal artistic growth.
Take your landscape photography to the next plateau by avoiding common errors that will allow you to "see like a camera". Landscapes are three dimensional views that ultimately have to be successfully rendered as two dimensional prints and this transition requires a conscious understanding of how the image has to be transformed in the process.
$396.00 USD
What You Get
Benefits:
You get direct feedback on your photos from world-acclaimed, professional photographers. You can learn photography in this way from anywhere in the world.

Learn at your pace, with structure.

Be guided by a real pro instructor.

Get your photos critiqued every week.

Join students from around the world.

Go far beyond any book or DVD.

Make great pictures, again and again!
Instructor
Doug Steakley
Douglas Steakley is a widely published photographer from Carmel Valley, California. His distinct images range from the Monterey Peninsula to many international destinations where he enjoys traveling.
Two large-format books featuring his color photography have been published: Pacific Light, Images of The Monterey Peninsula, in 2000, and Big Sur and Beyond, The Legacy of The Big Sur Land Trust, in 2001. Pacific Light won an Honorable Mention from the National Outdoor Book Awards in 2001. A third book, A Photographer's Guide To The California Coast, was published in 2005, by Countryman Press. Doug is currently working on a fourth book, A Photographer's Guide To The Big Sur Coast, which will be released in 2010.
Photographs by Doug Steakley have received awards in many photography contests including those sponsored by National Geographic Traveler magazine, Petersen's Photographic magazine and The National Park Service. He recently won a two week safari to Africa as the Grand Prize Winner in a photography contest co-sponsored by National Geographic and Energizer batteries.
Doug supports and works closely with several land conservation groups and a variety of his images have been published in annual reports and a variety of other publications. He has worked with The Big Sur Land Trust, The Nature Conservancy, The Land Trust Alliance, The Trust For Public Land, The Wilderness Coalition, The Tuolumne River Trust and The Monterey County Regional Park District. In 2003, he received the Ansel Adams Award from The Sierra Club for his conservation photography.
His images have been widely published in many local, national and international magazines including Architectural Digest, Backpacker, Outside, Better Homes and Gardens, Art and Antiques, Private Pilot, Luxury Living, The Robb Report, and Town and Country. He regularly contributes to travel catalogs published by Wilderness Travel, Mountain Travel and others.
Recent one-person exhibitions of Doug's photography include The Pacific Grove Art Center, The Fireside Gallery at the Highlands Inn, The Monterey Conference Center, The Pacific Grove Museum of Natural History, The Maureen Doud Gallery in The Sunset Center, and The Gallery at The Blackstone Winery in Gonzales.
Doug's stock photography is represented world-wide by Lonely Planet Images.
Doug currently serves as treasurer on the board of directors of The Center For Photographic Art in Carmel, California.
Aside from photography, Doug is an avid cyclist and recently completed his third Markleeville Death Ride in the Sierras.
Sample Photos by the Instructor
| | |
| --- | --- |
| © Doug Steakley | © Doug Steakley |
Examples of Student Photos
View photos by previous students. You can make pictures like this too!
This class is new. Student photos coming soon...
Course Outline
Lesson One: Introduction, Camera Settings and Rule of Thirds
An introduction to landscape photography with a discussion of correct camera settings and The Rule of Thirds. This first lesson talks about hyperfocal focusing and the techniques associated with using wide angle lenses for large, inclusive landscapes. Wide angle landscapes are very different from those taken with longer lenses and have the benefit of a very large depth of field, which enables you to have objects in the near foreground that are in sharp focus as well as having the background remain sharp.

Lesson Two: Use Perspective - Foreground, Middle Ground and Background
This is an extension of the first lesson, but in this lesson we concentrate on wide angle landscapes that have a feeling of depth due to the placement of an object in the near foreground, another in the middle ground and a sharp, in focus background. I will point out the importance of shooting from a low angle and switching to manual focus so the entire image remains tack sharp. Including perspective is the foundation for successful landscape photography.

Lesson Three: Look For and Use Leading Lines, Reflections and Repetition
In Lesson Three we review several elements that can be incorporated into your landscapes to make them more successful. Using leading lines, reflection and repetition are effective techniques that we often see but too often are not consciously aware of. Your landscapes will be greatly improved by learning to see and to incorporate these important elements.

Lesson Four: Find and Photograph in The Best Light
When I review images by students either in workshops or in BetterPhoto classes, I often see photographs that have great potential but were photographed at the wrong time of day. Nothing is more important in landscape photography than taking advantage of good light. In this lesson we will review and emphasize how photographing at the right time of day or under the right conditions can make the difference between an outstanding image or one that just has potential. Sunrise, sunset, cloudy or foggy days or clearing storms are times and conditions we should be aware of and take advantage of when they exist.

Lesson Five: The Intimate or Mid-Range Landscape
Intimate landscapes are very different from the wide angle photographs in the first three lessons. Moving in closer requires a more sophisticated or developed vision because the selection process is more stringent. Every element counts and those that are excluded are equally as important as those that are included in the scene. Photographing this type of landscape requires the development of a personal aesthetic as the photographer selects elements he or she wants to present and the selection process becomes ever more subjective.

Lesson Six: Moving in Closer
This lesson is an extension of Lesson Five, but now we move even closer and focus on only one or two elements in the landscape. The composition becomes tighter and emphasizes the photographer's ability to see and select. But the benefit of intimate landscapes is that they are personal and unique. As is pointed out in the lesson, you are no longer going to a location such as Yosemite or any national park and trying to reproduce well-known images that you have seen in books or calendars. Instead you are narrowing in on small elements of the landscape that appeal to you and learning how to frame and photograph them so they become expressive archetypes of the larger environment.

Lesson Seven: Twilight and Night Landscape Photography
This lesson focuses on photographing from evening twilight into dark. Twilight is one of the most flattering lights for a wide range of images and from there we move into even darker settings. Night photography includes how to photograph fireworks and lightning, how to "paint with light" using a powerful flashlight, how to photography by moonlight and how to photograph star-trails. Modern digital cameras have an amazing ability to capture detail in low light situations and we will take advantage of these capabilities in this class.

Lesson Eight: Develop Your Personal Vision
The previous seven lessons have covered a wide range of landscape techniques and in this final lesson I emphasize the importance of developing your personal style by photographing a group of images that are related either through a common technique or subject matter. I ask that you write a small text or artist's statement about this body of work because I believe that writing is a powerful tool or technique to bring sub-conscious feelings and attitudes into the conscious realm where they can be used as stepping stones to further development and growth. I ask that you share with us your personal feelings as they are expressed in your images. Developing a strong vision must become the ultimate goal and purpose of the many skills and techniques we continue to learn and develop as artistic photographers.

| | |
| --- | --- |
| © Doug Steakley | © Doug Steakley |
Requirements
The first requirement is that you have the time to commit and delve into this class and are able to take photographs during the class as part of the assignments.
You will need a DSLR camera with a lens that can photograph in the wide-angle to short telephoto range, or several lenses. A single lens such as the Nikon 19-200mm will suffice .or a series of lenses including a wide angle and a mid-range lens will also work.
A tripod.
A basic understanding of aperture settings, shutter speeds, ISO settings - and how they relate to and affect each other.
A sense of humor, curiosity and willingness to try new thing are all very helpful!
FAQ
What level of photographer is this course designed for?
This class is designed for any photographer who has a working knowledge of the basics such as aperture settings, shutter speeds and ISO settings and how they interact and affect each other. It is not a beginning class but the assignments are not difficult to understand.
Do I need to have experience in Photoshop or Elements?
I think this class would be difficult for anyone without some experience in Photoshop or Elements. While Photoshop is not an integral part of this class, the ability to make basic improvements to images is very helpful to maximize them. And I will be happy to answer questions about techniques in Bridge, Lightroom or Photoshop throughout the class.
Do I have to shoot in Raw or can I shoot in JPEG format?
I always recommend shooting in Raw format. However, for this class it is possible to shoot JPEGs. At some point, I encourage every photographer to embrace the digital process, which now means learning the basics of a post-processing program such as Lightroom, Photoshop or Aperture.
| | |
| --- | --- |
| © Doug Steakley | © Doug Steakley |
Do I have to be online at any specific time?
No, you do not need to be online at any specific time. The lessons are sent to your email and you are also provided the Campus Square - where you interact with your classmates and instructor. This is also where you upload your photos to be critiqued by your instructor. The instructors are very punctual and respond quickly.
Will I have access to the instructor to ask questions during the photo course?
Absolutely! Students can ask questions in the special Q&A forum set up in the course's Campus Square, or can ask the instructor via email.
Do you offer a money back guarantee?
Yes. We are confident that you will fully enjoy our courses. All the same, for our 8-week classes, we offer a 100% money-back guarantee before the Wednesday that Lesson #3 is sent out. If for any reason, you are not satisfied and let us know that you would like to withdraw before the Wednesday that Lesson #3 is sent, you will be promptly refunded.
For our 4-week courses, we offer a 100% money back guarantee before the Wednesday that Lesson #2 is sent out from BetterPhoto. If for any reason you are not satisfied and you let the ordering department know that you would like to withdraw before the Wednesday that Lesson #2 is sent, you will be refunded within 7 days. After the second lesson has been sent out, no refunds will be given.
Still have questions about this course?
Ask Us
Take the Next Step..
You can Get Started Today! The price is
$396.00
USD. Do this to start the class right away.
Add to Cart
today to get going in the class.
Add to Wishlist
---
Satisfaction Guaranteed!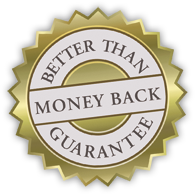 Better Than Money Back Guarantee
We Guarantee our courses.
100%, No Risk, No Hassle.
See you in class!