Get pro feedback on your photos in...
Basic Masks In Photoshop
Become a better photographer today!
Learn how to use one of the most powerful tools in Photoshop. Masks and selections allow you to work on a particular area of an image and make changes only to that area - a major benefit of digital photography. Taught by pro photographer and author Doug Steakley, this 4-week online class will examine the basic selection tools and learn how to add to, or subtract from, a selection so it is perfect. Then using a mask layer, you will make changes to the area or areas that were selected. Once you have a good working grasp of masks and layers, Photoshop becomes much less intimidating and more powerful and fun to use.
Key Features
The basic selection tools
Changing the sky
Blending two images together
Contol lightness and darkness in landscape images
For upper serious hobbyists, intermediates and advanced photographers.
Learn how to work in layers and layer masks in Photoshop
Receive careful instruction and guidance each step of the way along with personal feedback that will assist you in taking strong images.
Learn how to blend two images together to get the best of each such as a light sky and dark foreground
Learn how to take a better sky from one image and place it in a photograph with a white or uninteresting sky.
Take your images to the next level by learning how to control lightness and darkness within an image to guide the viewer's eye through the scene to the important areas.
$198.00 USD
What You Get
Benefits:
You get direct feedback on your photos from world-acclaimed, professional photographers. You can learn photography in this way from anywhere in the world.

Learn at your pace, with structure.

Be guided by a real pro instructor.

Get your photos critiqued every week.

Join students from around the world.

Go far beyond any book or DVD.

Make great pictures, again and again!
Instructor
Doug Steakley
Douglas Steakley is a widely published photographer from Carmel Valley, California. His distinct images range from the Monterey Peninsula to many international destinations where he enjoys traveling.
Two large-format books featuring his color photography have been published: Pacific Light, Images of The Monterey Peninsula, in 2000, and Big Sur and Beyond, The Legacy of The Big Sur Land Trust, in 2001. Pacific Light won an Honorable Mention from the National Outdoor Book Awards in 2001. A third book, A Photographer's Guide To The California Coast, was published in 2005, by Countryman Press. Doug is currently working on a fourth book, A Photographer's Guide To The Big Sur Coast, which will be released in 2010.
Photographs by Doug Steakley have received awards in many photography contests including those sponsored by National Geographic Traveler magazine, Petersen's Photographic magazine and The National Park Service. He recently won a two week safari to Africa as the Grand Prize Winner in a photography contest co-sponsored by National Geographic and Energizer batteries.
Doug supports and works closely with several land conservation groups and a variety of his images have been published in annual reports and a variety of other publications. He has worked with The Big Sur Land Trust, The Nature Conservancy, The Land Trust Alliance, The Trust For Public Land, The Wilderness Coalition, The Tuolumne River Trust and The Monterey County Regional Park District. In 2003, he received the Ansel Adams Award from The Sierra Club for his conservation photography.
His images have been widely published in many local, national and international magazines including Architectural Digest, Backpacker, Outside, Better Homes and Gardens, Art and Antiques, Private Pilot, Luxury Living, The Robb Report, and Town and Country. He regularly contributes to travel catalogs published by Wilderness Travel, Mountain Travel and others.
Recent one-person exhibitions of Doug's photography include The Pacific Grove Art Center, The Fireside Gallery at the Highlands Inn, The Monterey Conference Center, The Pacific Grove Museum of Natural History, The Maureen Doud Gallery in The Sunset Center, and The Gallery at The Blackstone Winery in Gonzales.
Doug's stock photography is represented world-wide by Lonely Planet Images.
Doug currently serves as treasurer on the board of directors of The Center For Photographic Art in Carmel, California.
Aside from photography, Doug is an avid cyclist and recently completed his third Markleeville Death Ride in the Sierras.
Sample Photos by the Instructor
| | |
| --- | --- |
| © Doug Steakley | © Doug Steakley |
Course Outline
Lesson One - The Basic Selection Tools
Learn how to use the Quick Selection and Magic Wand Tools and once a selection is made, changes can be made to the selected area such modifying the color or desaturating a portion of the image to black and white. In this class we will cover how to correct a selection to be certain that the selected area is perfect by adding to or subtracting from parts of the selection.
Assignment: Take or find a photograph where two areas are distinctly different in coloration and make a selection of one portion of the photograph. Once this selection is made, experiment with changing the color.

Lesson Two - Changing the Sky
In this lesson you will learn how to change the sky by bringing in a different sky or clouds from a separate image. Once the new sky is in place we will cover how to create and use a Clipping Mask to improve the new sky with Adjustment Tools. We will also cover how to improve the selection so the new sky blends seamlessly with the original image.
Assignment: Use some images that you already have or take new images and replace the sky into two different images.

Lesson Three - Blending Two Images Together
We have all shot in situations where the sky is much brighter than the foreground and a neural density filter cannot solve the problem because something is sticking up into the sky. In this lesson you will learn how to take two or more images and blend them together so the sky and foreground match and the exposure is appropriate for both of them. There are other situations where blending two images can result in a much stronger photograph, such as shooting through a window where the outside light is much brighter than the inside of the room.
Assignment: Take two images where the sky is noticeably lighter than the foreground. Expose one of these images for the foreground and the other for the sky. Then blend them together. Also, shoot an interior of a house or building with a window as part of the photograph. Then take two exposures, one for the interior and one for the scene through the window, and then blend them together.
Lesson Four - Contol Lightness and Darkness in Landscape Images
In this lesson, you will learn how to Lighten by Darkening an image and then use a brush tool to recover or lighten certain areas. Often images are improved dramatically by darkening them with the Multiply Overlay and then selectively bringing back more important portions of the scene. Then you will learn how to use the Lasso Tool to select areas of an image that can be lightened or darkened and how to blend these changes with the Gaussian Blur Filter. These simple but powerful techniques allow you to control how the viewer's eye enters and travels throughout the image, by following the guideline that light attracts and darkness causes parts of an image to recede.
Assignment: Use an existing landscape shot from your collection or take a new landscape image and use the Multiply technique described above to "Lighten by Darkening".
| | |
| --- | --- |
| © Doug Steakley | © Doug Steakley |
Requirements
Photoshop CS2-CS6
Photoshop Elements is OK, although a few of the functions may not be available in Elements.
You'll need some experience in Photoshop or Elements. But you do not need previous experience working in layers or masks, as this class is an introduction to both of them.
Course is PC- and Mac-compatible.
FAQ
What level of photographer is this course designed for?
This class has been designed for everyone from the serious hobbyists to the intermediate or advanced photographer.
What equipment is needed for this course?
You will need a computer with Photoshop CS2-CS6, or Elements. Note, though, that a few of the functions may not be available in Elements.
Do I need to have previous experience in Photoshop or Elements?
I think this class would be difficult for anyone without some experience in Photoshop or Elements. You do not need previous experience working in Layers or Masks, since this class introduces you to both of them. 
Do I have to shoot in Raw or can I work on JPEG files?
I always recommend shooting in the Raw format. However, all of the changes to the images in this class apply to either TIFF or JPEG files, so it is not necessary to use Raw formatting.
What else should I know about this course?
This class is designed to introduce you to working in masks and layers in Photoshop. The four lessons cover many of the basics that are helpful in understanding how masks and layers work and how layers can be modified with the opacity slider or totally removed. The benefit of working in layers is that each layer can be turned on and off to see the effect, it can be modified with the opacity slider or it can be moved to the trash so you can start all over again. Also, images can be saved with the changes made in layers so they can be modified again at a later time as your skills improve.
| | |
| --- | --- |
| © Doug Steakley | © Doug Steakley |
Do I have to be online at any specific time?
No, you do not need to be online at any specific time. The lessons are sent to your email and you are also provided the Campus Square - where you interact with your classmates and instructor. This is also where you upload your photos to be critiqued by your instructor. The instructors are very punctual and respond quickly.
Will I have access to the instructor to ask questions during the photo course?
Absolutely! Students can ask questions in the special Q&A forum set up in the course's Campus Square, or can ask the instructor via email.
Do you offer a money back guarantee?
Yes. We are confident that you will fully enjoy our courses. All the same, for our 8-week classes, we offer a 100% money-back guarantee before the Wednesday that Lesson #3 is sent out. If for any reason, you are not satisfied and let us know that you would like to withdraw before the Wednesday that Lesson #3 is sent, you will be promptly refunded.
For our 4-week courses, we offer a 100% money back guarantee before the Wednesday that Lesson #2 is sent out from BetterPhoto. If for any reason you are not satisfied and you let the ordering department know that you would like to withdraw before the Wednesday that Lesson #2 is sent, you will be refunded within 7 days. After the second lesson has been sent out, no refunds will be given.
Still have questions about this course?
Ask Us
Take the Next Step..
You can Get Started Today! The price is
$198.00
USD. Do this to start the class right away.
Add to Cart
today to get going in the class.
Add to Wishlist
---
Satisfaction Guaranteed!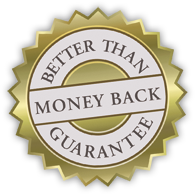 Better Than Money Back Guarantee
We Guarantee our courses.
100%, No Risk, No Hassle.
See you in class!