Get pro feedback on your photos in...
Photoshop: Thinking Outside the Box
Become a better photographer today!
Learn to turn your photos into unique and creative works of art using the step-by-step procedures outlined in this course. Understanding the commands in Photoshop is the easy part. The hard part is knowing what to do next. In other words, how can you be artistic with this knowledge? For example, how do you turn a portrait into a stunning sketch? How do you create a 3D cube in a two dimensional photo? How do you simulate a traditional double exposure? These are some of the exciting techniques that top pro Jim Zuckerman explores in this 8-week online course.
Key Features
Create Perspective Planes
How to Create a Sketch
Learn Aspects of 3D
Creating an Open-Sided Box
Replacing the Sky
Changing Colors
Wild Distortion Techniques
Texture Map a Photo onto a Sphere

For intermediate and advanced Photoshop users.
Explore some very cool effects that you will want to try with pictures you've already taken, or with new images.
$396.00 USD
What You Get
Benefits:
You get direct feedback on your photos from world-acclaimed, professional photographers. You can learn photography in this way from anywhere in the world.

Learn at your pace, with structure.

Be guided by a real pro instructor.

Get your photos critiqued every week.

Join students from around the world.

Go far beyond any book or DVD.

Make great pictures, again and again!
Instructor
Jim Zuckerman
Few people are able to spend most of their time pursuing their passion in life. I'm one of them, and I feel blessed to have had a love affair with photography since I began taking pictures.
In 1970, I decided to abort my intended career as a doctor in favor of photography and have never regretted it. Photography has enriched my life more than I can tell you. My career has taken me to over 60 countries, and I've seen and photographed wondrous things.

I specialize in wildlife and nature, international travel, and digital effects. In addition, I also shoot nudes, photo- and electron microscopy, children, and other subjects that stimulate my visual or emotional sensibilities.
For 25 years, I shot a medium format camera, specifically the Mamiya RZ 67, for its superior quality. When I would lecture, I'd project the large, glass mounted transparencies, and it was really an incredible experience to see the brilliant color saturation and resolution of these slides. However, I went digital in 2004 because the technology finally equaled or surpassed medium format. I now shoot the Canon 1Ds Mark II digital camera with a variety of lenses.
I am the author of 12 books on photography. My work is sold in 30 countries around the world, and my images have appeared on scores of magazine and book covers, calendars, posters, national ads, trade ads, brochures, and corporate promotions.
For many years I've led photography tours to exotic places. These include Papua New Guinea, Thailand, Burma, Greece, The Czech Republic and Slovakia, Spain, Morocco, and Peru.
Sample Photos by the Instructor
| | |
| --- | --- |
| © Jim Zuckerman | © Jim Zuckerman |
Examples of Student Photos
View photos by previous students. You can make pictures like this too!
This class is new. Student photos coming soon...
Course Outline
Week 1. Creating Perspective Planes
Learn to use perspective lines to create space-like images.
Assignment: Draw perspective lines on a star field and suspend an object above the imaginary plane.
Week 2. How to Create a Sketch
Learn to use blend modes out of a portrait, a wildlife shot, a landscape, or architecture.
Assignment: Submit 3 pairs of images showing the before and after comparisons where you convert your original files into artistic sketches.
Week 3. Learn Aspects of 3D
Discover how to create a 3D cube floating above a surface.
Assignment: Submit image show a 3D cube texture mapped with a photo, and make sure you show a drop shadow beneath the cube.
Week 4. Creating an Open-Sided Box
In this lesson, you'll learn how to create an open-ended box that is surfaced, or texture mapped, with photographs. Instead of surrealism, this type of subject enters the realm of fine art and the resulting images can look beautiful framed.
Assignment: Create an open-side cube with a single photo. This could be an end in itself if you like the results, or you could do what I did in placing objects or people inside. There are many directions you could go in using this technique.
Week 5. Replacing the Sky
One of the best things you can do to a photograph to improve it is to replace a white or washed out sky – or simply a boring one – with a sky that is dynamic.
Assignment: Replace the sky, but I want you to do this so you can get it as perfect as possible. I'd like you to upload the before and after photos so we can see the original background.
Week 6. Changing Colors
There are many ways to change the colors in photographs using Photoshop. This lesson covers a unique tool that has a wide range of applications. Once you see how easy it is to use, it will be an important part of your creative arsenal.
Assignment: Submit 3 pairs of images showing the before and after where you made a summer scene look like autumn.
Week 7. Wild Distortion Techniques
Find out how to create unique effects with distortion.
Assignment: Using liquify, change a person's features and their body shape; using Flexify, distort a variety of subjects into total abstractions.
Week 8. Texture Map a Photo onto a Sphere
One of the techniques that has always intrigued me is applying two-dimensional photographs onto three-dimensional objects. We did that with a cube in Lesson 3, but this time the approach - and the end result - will be very different. This lesson will show you how you can texture map a photograph onto a sphere.
Assignment: Create a sphere using any of the procedures described (for Photoshop and Elements), and then be as creative as possible in putting it into another environment or somehow combining it with other pictures.
| | |
| --- | --- |
| © Jim Zuckerman | © Jim Zuckerman |
Requirements
Photoshop CS3 or later.
(Note: Elements is fine, too. Although a few features are missing in Elements, Jim will provide an alternate method for doing the same or similar technique.)
A PC or a Mac with plenty of RAM (at least 2 GB recommended)
Passion for Photoshop
FAQ
How much Photoshop experience do I have to have to take this course?
You should have a familiarity with the tools and some working knowledge of layers. You do not have to be an expert in Photoshop. Each technique will be presented in step-by-step fashion, so if you didn't know a particular pull-down menu, filter, tool or technique, you will definitely understand how to use it by studying the course material.
Will the instructor comment on my compositions and exposure technique as well as the Photoshop work I do?
Yes. Jim's goal is to have you improve your image making on all levels.
Can I use Photoshop Elements for this course?
Yes, but there may be a few features missing in Elements in a couple of the lessons. Jim will then give you a work-around - in other words, how to do the same technique (or a similar one) using another method.
| | |
| --- | --- |
| © Jim Zuckerman | © Jim Zuckerman |
Do I have to be online at any specific time?
No, you do not need to be online at any specific time. The lessons are sent to your email and you are also provided the Campus Square - where you interact with your classmates and instructor. This is also where you upload your photos to be critiqued by your instructor. The instructors are very punctual and respond quickly.
Will I have access to the instructor to ask questions during the photo course?
Absolutely! Students can ask questions in the special Q&A forum set up in the course's Campus Square, or can ask the instructor via email.
Do you offer a money back guarantee?
Yes. We are confident that you will fully enjoy our courses. All the same, for our 8-week classes, we offer a 100% money-back guarantee before the Wednesday that Lesson #3 is sent out. If for any reason, you are not satisfied and let us know that you would like to withdraw before the Wednesday that Lesson #3 is sent, you will be promptly refunded.
For our 4-week courses, we offer a 100% money back guarantee before the Wednesday that Lesson #2 is sent out from BetterPhoto. If for any reason you are not satisfied and you let the ordering department know that you would like to withdraw before the Wednesday that Lesson #2 is sent, you will be refunded within 7 days. After the second lesson has been sent out, no refunds will be given.
Still have questions about this course?
Ask Us
Take the Next Step..
You can Get Started Today! The price is
$396.00
USD. Do this to start the class right away.
Add to Cart
today to get going in the class.
Add to Wishlist
---
Satisfaction Guaranteed!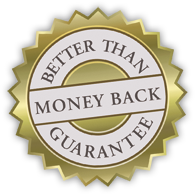 Better Than Money Back Guarantee
We Guarantee our courses.
100%, No Risk, No Hassle.
See you in class!