Get pro feedback on your photos in...
Digital Infrared Photography
Become a better photographer today!
Learn and practice how to capture the surreal qualities of infrared light with your digital camera. Using an infrared-converted camera, you'll be able to create stunning images that transcend color photography. Author of Digital Infrared Photography, Deborah Sandidge will guide you and share the techniques used by professionals to round out your photography. Her "how to" tips and suggestions will improve your skills, confidence and enjoyment of infrared photography. In this fun and informative four-week online course, you'll learn some Photoshop essentials for infrared and how to apply your creative vision to your photography.
Key Features
Visualizing and capturing infrared Images
How Infrared Composition Differs from Color
Working Creatively In-Camera and Optimizing your Infrared Images
What happens if? Creatively Working in Photoshop
Designed for upper Serious Hobbyists through Advanced.
Create professional-looking infrared images.
Specific technical tips and tricks.
Infrared converted camera required.
$198.00 USD
What You Get
Benefits:
You get direct feedback on your photos from world-acclaimed, professional photographers. You can learn photography in this way from anywhere in the world.

Learn at your pace, with structure.

Be guided by a real pro instructor.

Get your photos critiqued every week.

Join students from around the world.

Go far beyond any book or DVD.

Make great pictures, again and again!
Instructor
Deborah Sandidge
Photography has been part of award-winning professional photographer and author, Deborah Sandidge's life since she picked up her first camera—it has evolved into her passion.
Following her formal study of art and photography at the University of South Florida, she began dedicating her time to the art of digital photography, establishing a name for herself as a leading infrared photographer. Deborah, who is the author of the book, Digital Infrared Photography, teaches two excellent online photo courses right here at BetterPhoto.com: Digital Infrared Photography and Photoshop: Enhancing Images and Creating Works of Art.
Residing in Oviedo, Florida, allows Deborah easy access to her favorite photography subjects, Florida's birds and other wildlife, as well as its landscapes. Her travels, however, have not been limited to Florida's fascinating beauty; they have taken her from border to border of America and beyond to yield photography that stretches the imagination. She has had the joy and privilege of photographing areas ranging from Namibia, Africa, with its stunning dunes, primitive tribal villages, beautiful people, and sweeping coastlines, to the cities and towns of Switzerland, Germany, and France with their rich history, majestic mountains, tiny churches, soaring cathedrals, and captivating night scenes.
Deborah's passion is not only capturing images of people, places, and things with her digital cameras, but also in the enhancing, creative work she does in the digital darkroom. She considers Photoshop her "artist's palette".
Deborah's tutorials have been published in Photoshop Creative Magazine and in Digital Close-up Photography. Her photography has been published in Nikon World Magazine, Nikon World Calendar, and in various Nikon publications and at photography events including PhotoPlus Expo, PMA and Macworld.
Deborah's photography is currently on exhibit in several galleries. Her creative digital image, Cormorant Conversation, along with photos from the Orlando Camera Club, earned Best Nature Portfolio by Nature's Best magazine for the prestigious Windland Smith Rice International Award 2008, which is on exhibit at the Smithsonian's National Museum of Natural History, Washington DC. Deborah's work is represented by Danita Delimont, Positive Images, and Novastock.
Sample Photos by the Instructor
| | |
| --- | --- |
| © Deborah Sandidge | © Deborah Sandidge |
Course Outline
Lesson 1: Visualizing and Capturing Infrared Images
Defining infrared light and how it can be used with photography. Using infrared light as an artistic and creative alternative. Filter choices, setting up your camera, getting the best exposures, and how infrared differs from color photography.
Assignment: Shooting in infrared and comparing the differences between color and infrared.
Lesson 2: How Infrared Composition Differs from Color
Composing and photographing in infrared. Choosing the best lens for the subject. Discover how infrared light impacts architecture, landscapes, people, and animals. Using the drama of infrared light to develop unique themes in infrared.
Assignment: Composing a dramatic infrared photograph using compositional techniques or a thematic approach for compelling images.
Lesson 3: Working Creatively In-Camera and Optimizing your Infrared Images
Explore various creative techniques such as long exposures, shooting through glass, reflections and using special filters. Optimizing your infrared images, noise reduction and converting to black and white.
Assignment: Stretching creative boundaries and exploring new destinations by trying something new with digital infrared photography.
Lesson 4: What Happens If? Creatively Working in Photoshop
Fun and final lesson, achieving the "blue sky" effect, using selective color for impact. Toning, tinting and simulating a traditional infrared film look. Composites, filters and plug-ins to enhance your image. Finishing touches.
Assignment: Using your imagination for creative interpretations in infrared that will engage and draw in the viewer.
| | |
| --- | --- |
| © Deborah Sandidge | © Deborah Sandidge |
Requirements
Infrared converted camera.
Understanding of aperture, shutter speed, and camera functions.
Familiarity in working with Photoshop or Elements.
The "blue sky" effect can be achieved with infrared conversions such as the standard (720nm), the enhanced color filter (665nm), and best, the super color 590nm conversion, along with the use of Photoshop's Channel Mixer.
FAQ
Is this course designed for the novice, amateur or advanced photographer?
This course is designed for anyone who has a good working knowledge of a digital SLR camera. The course is designed to build skills for upper serious hobbyists, intermediates, and advanced photographers.
What equipment do I need for this course?
You will need an infrared converted camera.
What extra equipment do I need for infrared photography?
Sturdy tripod for longer exposures (just like color photography).
| | |
| --- | --- |
| © Deborah Sandidge | © Deborah Sandidge |
Do I have to be online at any specific time?
No, you do not need to be online at any specific time. The lessons are sent to your email and you are also provided the Campus Square - where you interact with your classmates and instructor. This is also where you upload your photos to be critiqued by your instructor. The instructors are very punctual and respond quickly.
Will I have access to the instructor to ask questions during the photo course?
Absolutely! Students can ask questions in the special Q&A forum set up in the course's Campus Square, or can ask the instructor via email.
Do you offer a money back guarantee?
Yes. We are confident that you will fully enjoy our courses. All the same, for our 8-week classes, we offer a 100% money-back guarantee before the Wednesday that Lesson #3 is sent out. If for any reason, you are not satisfied and let us know that you would like to withdraw before the Wednesday that Lesson #3 is sent, you will be promptly refunded.
For our 4-week courses, we offer a 100% money back guarantee before the Wednesday that Lesson #2 is sent out from BetterPhoto. If for any reason you are not satisfied and you let the ordering department know that you would like to withdraw before the Wednesday that Lesson #2 is sent, you will be refunded within 7 days. After the second lesson has been sent out, no refunds will be given.
Still have questions about this course?
Ask Us
Take the Next Step..
You can Get Started Today! The price is
$198.00
USD. Do this to start the class right away.
Add to Cart
today to get going in the class.
Add to Wishlist
---
Satisfaction Guaranteed!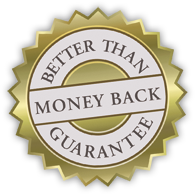 Better Than Money Back Guarantee
We Guarantee our courses.
100%, No Risk, No Hassle.
See you in class!