Get pro feedback on your photos in...
Wedding Photography Techniques: An Introduction
Become a better photographer today!
Learn how to establish yourself as a photographer who understands weddings. In this 8-week online course, youíll discover how to consistently come back with professional results that will please not only the bride and groom but their families as well. With the guidance of instructor David J. Pavol, an experienced and well-published professional, youíll find out how to handle the technical challenges that come up and how to expose a photograph so it looks the way you visualize it. In addition, youíll learn the steps that go into covering of a wedding and youíll also see plenty of examples to guide you through what comes before and after the wedding day.
Key Features
Getting Started
Equipment
Bridals & Engagements
Wedding Photography Lighting Tips
Exposure & Dragging the Shutter
Wedding Day Coverage - Part 1
Wedding Day Coverage - Part 2
Keeping the Excitement

Class filled with wedding photography tips.
Answers to your wedding photography frequently asked questions.
Learn wedding photography poses that the pros use.
Wedding photography lighting tips.
Learn how to advertising your photographic talents.
Not necessary to attend a wedding to complete the course assignments.
$396.00 USD
What You Get
Benefits:
You get direct feedback on your photos from world-acclaimed, professional photographers. You can learn photography in this way from anywhere in the world.

Learn at your pace, with structure.

Be guided by a real pro instructor.

Get your photos critiqued every week.

Join students from around the world.

Go far beyond any book or DVD.

Make great pictures, again and again!
Instructor
David J. Pavol
From childhood, I've had a love of the art of photography and, at the same time a love to get into the business of photography. One of my earliest memories in grade school was taking photos of a lady and getting paid $5.00 even though I never saw the photos. From that point I personally made my own business cards and began passing them out to everyone I knew.
In the early days of my career, I had a studio in Los Angeles where I photographed celebrities, editorial, and commercial work throughout the United States, Canada, and Europe. I never turned down an assignment, even if it was extremely challenging. One memorable job involved shooting a well-known pianist playing the piano while he was driving down the freeway during rush hour. Not only did I have to arrange for the piano to be delivered on site but had to manage a crew of assistants, fill the freeway in both directions with 57 cars plus get all the permits necessary to complete the assignement for an album cover.
In commerical work, as well as in wedding photography, diplomacy and tact are often more important than anything else.
My work has been used on scores of album and CD covers, national and international ads, publications, books, magazines, feature articles, calendars, and television promotions.
The demand on a commercial photographer can be tough sometimes. On an assignment in Spain, for example, I had to wait 7 days to photograph the key personalities for a television series and was allowed only 60 seconds for the actual shoot. This type of pressure forces you to really know your equipment, lighting, posing, and how to handle people.
I've been shooting weddings since the 60's, but in the early 1990's weddings began to intrigue me to take them more seriously and learn the professional approach to do a good job. I've photographed not only American weddings but many ethnic ceremonies as well, such as: Egyptian, Japanese, Indian, Jewish, Greek, Hindu, Persian, and Brazilian; extravagant and budget weddings.
Lighting is critical in good wedding photography, and one of the things that I specialize in is artistically lighting the bride and groom with available light and adding extra light. This sets my work apart from other photographers who don't understand the technical challenges of multi-light setups.
I've written for several bridal magazines, including Enchanted Bride Magazine, I Do Magazine, and Premier Bride where my photos and articles have helped brides make informed decisions about working with a photograher. I love teaching and I've been involved in the photo education at the university level since 1967.
In 2004 I photographed my first magazine cover with digital capture and have been exclusively digital since May of 2006. This has allowed me to be more creative than ever before with the images I can make, and my clients appreciate the control I have over how their photographs look. It's very important to keep up with the latest trends in lighting, shooting styles, and album designs since these are constantly changing especially in the wedding world.
Sample Photos by the Instructor
| | |
| --- | --- |
| © David Pavol | © David Pavol |
Examples of Student Photos
View photos by previous students. You can make pictures like this too!
This class is new. Student photos coming soon...
Course Outline
Week 1: Getting Started
Getting work. Phone calls. Pricing. Building experience. The first appointment. Finding out their needs and wants. Agreements and contracts. Assignment: Turn photographs that you think would be a good publicity piece to show off your photographic talent in the wedding world. This should represent strong impact for the brides to want to contact you for your services.
Week 2: Equipment
Cameras (digital and film, Raw vs. JPEG). Lenses (prime vs. zoom vs. fast). Labs. Backup equipment. Depth of field. Intro to metering. Intro to lighting (soft, hard, available, artificial). Wedding time vs. normal time. Emergency equipment. Assignment: With photos of one or two people, show shallow depth of field and great depth of field while still observing the background for any distracting elements.

Week 3: Bridals & Engagements
Making them feel special. Bridals - What to look for and making the gown look great. Light - shade vs. bright. Compositional elements. Engagements. Capturing their personalities. Clothing - what works. Backgrounds, lines and colors. Catch-lights. Assignment: Photograph a couple as if they are engaged to be married and let them have fun doing what they enjoy together in public. Still watch the backgrounds, colors, and clothing. Use fill lights/reflectors to balance the light.
Week 4: Wedding Photography Lighting Tips
One sun - the normal look vs. the different look. Satisfying the majority. Controlling light - fill lighting. Exposure extremes. Total control. Meters - handheld model vs. in-camera meter. Kelvin temperature - colors. Auto White Balance. Introduction to strobes. Assignment: Using natural outdoor lighting, show "harsh" lighting and "soft" lighting on a portrait. Take one more photograph of them inside under artificial lights and allow the natural lighting to be a part of the photograph.
Week 5: Exposure & Dragging the Shutter
Dragging the shutter. Manual and Automatic settings. Observing the light. Extra lighting - transmitters and receivers. Communication. Histograms. Capturing what you see. Strobes as a key light and a fill light. Controlling the background exposure. Tripods. Assignment: Here we want to "drag the shutter" in a large interior room such as a church, temple, auditorium, arena, and expose for the ambient light and use a flash fill for your subject while balancing all the light sources. Then go outdoors and find a bright background and while your subject is in the shade, balance the background to the light on the subject while still holding all tones.

Week 6. Wedding Day Coverage - Part 1
Preparation - What to bring. Why you need an information sheet. Pleasing the bride and groom. Times to start - Bride and groom, bridal party, families. Tradition - to see or not to see. An educated decision. A photographer's joy and responsibility. Assignment: Show a person(s) personality and character. Show their personalities, their interests, and how they relate to their surroundings and each other.
Week 7: Wedding Day Coverage - Part 2
The Wedding Day from start to finish. Details - arrival, dressing room, bride, groom. Bride and groom, bridal party, families, pre-ceremony. Ceremony, post-ceremony, leaving the ceremony.
Reception details, food, dancing, cakes, bouquet, garter, rings, the good-byes. Assignment: Try to shadow a professional wedding photographer and observe how they work; offer your assistance during the day. Even if you canít find this opportunity, on your own time, find a girl with a white/cream dress and a guy with a dark suit/tux and photograph them inside and outdoors using the information that youíve learned in the previous lessons.
Week 8: Keeping the Excitement
The value of the photographs. Keeping the sizzle. Web viewing and its usage. Observation for digital story-telling albums. Classic albums. Labs - Professional vs. 1 Hour. Protecting your files. Programs. Album design with ideas. Copyright protection. Assignment: Design either a story album or a classic album of a couple that you have photographed. Each side will show your variety and photographic talents.
| | |
| --- | --- |
| © David Pavol | © David Pavol |
Requirements
Digital or film SLR camera that allows for manual controls of shutter speeds, f/stops, and focusing.
In-camera meter and/or handheld incident meter.
Portable flash either dedicated to your camera or any automatic flash.
One lens is acceptable, but ideally, you might want the creativity given with wide-angle, normal and telephoto lenses. They can be prime (fixed) lenses or zoom lenses. Advantages of "fast" lenses will be discussed.
You should have an understanding of shutter speeds and f/stops.
FAQ
If I haven't photographed any weddings before, will I be totally lost in this course?
No, each lesson is approached from a basic position and then built on from that point.
Do I need to know the basics of photography before I take this class?
You should have a basic understanding of the f/stops and shutter speeds and how they relate to one another. You should also have an understanding of your camera and its functions. The other areas we discuss will be presented for understanding and application.
What type camera would you recommend?
The course is taught so that you can use either a film or digital SLR camera. If you use a film camera you will need to have your images scanned to upload for the assignments and critique. You want a camera that will not limit your creativity. The camera should have the ability to adjust: shutter speeds, f/stops, focus, additional lenses, and flash.
Do I need to purchase additional lenses if I only have one?
If you have one lens, you will use that; it's a good start. This is how many photographers got started. If you have other lenses, you will have more variety to shoot with. We will be discussing what lenses will work best for covering weddings; such as zoom and prime lenses and the advantage of having fast lenses to use in low light situations. When you observe some of the photographs I will show, you will eventually you will want to make the investment to get more lenses.
I don't have a flash for my camera, do I have to go out and buy one?
Many photographers are not using flash for their weddings because of the photojournalistic style that is very prevalent in wedding photography today. Eventually, you will want to purchase a dependable dedicated flash for your camera since you will find yourself in situations where you must take photographs in dimly lit rooms and you will have to add supplementary light.
Must I have a bride with her gown and the groom with a tux to photograph the assignments?
I've done my best to think of assignments that will not require a person to have a bride with gown and groom with tux. There is one assignment, later in the course, that I recommend trying to find a bride and groom. You will need to have some friends pose for you, since all the assignments are going to include people.
All I have is the meter in my camera. Will that be sufficient?
Yes, we will discuss hand-held meters but our goal for wedding photography is to use the meter in the camera. Most cameras today have meters that are manual and automatic. I'll be discussing why I use the meter on manual most of the time.
Will I have enough information after the course to photograph a wedding?
Whether you are just getting started in wedding photography or have had some experience as a wedding photographer, you should come away with some new and different ideas about your approach toward weddings, your business and additional resources (labs & album companies). Experience in physically going out and photographing a wedding will be your true test in applying what will be discussed.
Will I need to understand computers and Photoshop to complete this class?
You will need to know how to upload your digital images so that you can send them for comments.† If you are using film you will have to scan your images to be able to send them. Knowing how to store your images on your internal and/or external hard drives is important.† And having some basic knowledge of editing software will allow you to manipulate your images if you feel the need.
| | |
| --- | --- |
| © David Pavol | © David Pavol |
Do I have to be online at any specific time?
No, you do not need to be online at any specific time. The lessons are sent to your email and you are also provided the Campus Square - where you interact with your classmates and instructor. This is also where you upload your photos to be critiqued by your instructor. The instructors are very punctual and respond quickly.
Will I have access to the instructor to ask questions during the photo course?
Absolutely! Students can ask questions in the special Q&A forum set up in the course's Campus Square, or can ask the instructor via email.
Do you offer a money back guarantee?
Yes. We are confident that you will fully enjoy our courses. All the same, for our 8-week classes, we offer a 100% money-back guarantee before the Wednesday that Lesson #3 is sent out. If for any reason, you are not satisfied and let us know that you would like to withdraw before the Wednesday that Lesson #3 is sent, you will be promptly refunded.
For our 4-week courses, we offer a 100% money back guarantee before the Wednesday that Lesson #2 is sent out from BetterPhoto. If for any reason you are not satisfied and you let the ordering department know that you would like to withdraw before the Wednesday that Lesson #2 is sent, you will be refunded within 7 days. After the second lesson has been sent out, no refunds will be given.
Still have questions about this course?
Ask Us
Take the Next Step..
You can Get Started Today! The price is
$396.00
USD. Do this to start the class right away.
Add to Cart
today to get going in the class.
Add to Wishlist
---
Satisfaction Guaranteed!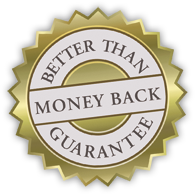 Better Than Money Back Guarantee
We Guarantee our courses.
100%, No Risk, No Hassle.
See you in class!