Get pro feedback on your photos in...
Guaranteed Better Photography
Become a better photographer today!
Learn how you can immediately get better digital photos - guaranteed - while improving your shooting technique. Besides his work as author of over 20 books and professional photographer, instructor Rob Sheppard writes a popular column, "Digital Horizons," for
Outdoor Photographer
magazine and is an experienced workshop instructor. In this exciting four-week online class, you'll learn to improve your exposures, use light for dramatic images, work with White Balance, and work effectively with your camera's LCD.
Key Features
How to use the camera's LCD for better photos.
Improve your exposure right now.
Quick steps to using light for dramatic results.
Working with White Balance for better pictures.
For Beginners and Serious Hobbyists (Skill Levels 1 and 2).
The ICAN attitude and how it will build success.
Learn to take better photos with these key steps.
Guidance from an experienced digital photographer, editor and writer who knows how to help photographers succeed.
Course designed for anyone with a digital camera from advanced compact cameras to digital SLR.
$198.00 USD
What You Get
Benefits:
You get direct feedback on your photos from world-acclaimed, professional photographers. You can learn photography in this way from anywhere in the world.

Learn at your pace, with structure.

Be guided by a real pro instructor.

Get your photos critiqued every week.

Join students from around the world.

Go far beyond any book or DVD.

Make great pictures, again and again!
Instructor
Rob Sheppard
Rob Sheppard has had a long-time and nationally recognized commitment to helping photographers become better photographers, regardless of the equipment and technology. He was the editor of
Outdoor Photographer
magazine for 12 years and was the original editor of
PCPhoto
(now
Digital Photo
). Now he is editor-at-large.
He is also the author/photographer of over thirty photo books, including The Magic of Digital Landscape Photography, The National Geographic Field Guide to Photography - Digital, and Adobe® Photoshop Lightroom for Digital Photographers Only. He writes regularly for Outdoor Photographer and teaches around the country, including workshops for the Palm Beach Photographic Centre and the Light Photographic Workshops. His Web site for workshops, books and photo tips is at www.robshepppardphoto.com, and his blog on nature and photography is at www.natureandphotography.com.
As a photographer, Rob worked for many years in Minnesota (before moving to Los Angeles), including doing work for the Minnesota Department of Transportation, Norwest Banks (now Wells Fargo), Pillsbury, 3M, General Mills, Lutheran Brotherhood, Ciba-Geigy, Anderson Windows, and others. His photography has been published in many magazines, ranging from National Geographic to The Farmer to, of course, Outdoor Photographer and PCPhoto.
He and his wife, Vicky (married 30+ years), live in the Los Angeles area. They have a son working on his Ph.D. in youth sports and education, and a daughter studying communications/journalism.
Also see Rob's Nature and Photography blog.
Sample Photos by the Instructor
| | |
| --- | --- |
| © Rob Sheppard | © Rob Sheppard |
Course Outline
Week 1: How to Use the Camera's LCD for Better Photos
That LCD on the back of your camera can become a tremendous tool once you learn some tips on using it. It can help you get better images in many ways – you will learn how to make it work for you. Your assignment will include working with the LCD in an experimental way to get better photos.
Week 2: Improve Your Exposure Right Now
Camera meters today are very good and give excellent results. But if you really want the best from your photography, you need to know more. You will learn how to master exposure to give you better tonality, color and fewer problems with noise. The assignment will include drills to help you refine your exposure technique.
Week 3: Quick Steps to Using Light for Dramatic Results
Light is obviously critical for photography. Many photographers, though, simply see it as illumination – is there light on the subject? This lesson will take you to light that can be dramatic, plus light that makes color and form pop in your images. The assignment will include working with light in ways designed to help you "see the light."

Week 4: Working with White Balance for Better Pictures
Sure, auto white balance "works", but that's like saying Cruise Control works for a race car driver. In this class, you'll discover how you can get better color and a more consistent workflow by paying attention to how white balance is set on your camera. The assignment will be related to working with various white balance settings for everything from pure realism, to enhanced color to creative control.
| | |
| --- | --- |
| © Rob Sheppard | © Rob Sheppard |
Requirements
Digital camera with aperture and shutter speed control.
A willingness to experiment and try different approaches.
Desire to capture better images.
FAQ
Will this class help me learn more about my camera?
Absolutely. The class is not about any specific brand or model, but the lessons and assignments will get you exploring your camera and its controls.
Does my digital camera need to be expensive - a professional model?
No, as long as your camera allows you to control aperture and shutter speed and use a variety of focal lengths - those are important things. A digital SLR is ideal, although an advanced compact digital camera would also work fine. However, without the creative options of exposure control plus a range of focal lengths, you will likely find a point-and-shoot camera insufficient for this course.
Are you going to teach things you can do in Photoshop in this photo course?
Not really, though I often make comments about image processing in the critiques. This course is about shooting, not about Photoshop or digital image-editing software.
Do I need anything else in the way of equipment?
You do not need a lot of special equipment for this class. A camera and lens is enough. This is about shooting with whatever gear you have.
| | |
| --- | --- |
| © Rob Sheppard | © Rob Sheppard |
Do I have to be online at any specific time?
No, you do not need to be online at any specific time. The lessons are sent to your email and you are also provided the Campus Square - where you interact with your classmates and instructor. This is also where you upload your photos to be critiqued by your instructor. The instructors are very punctual and respond quickly.
Will I have access to the instructor to ask questions during the photo course?
Absolutely! Students can ask questions in the special Q&A forum set up in the course's Campus Square, or can ask the instructor via email.
Do you offer a money back guarantee?
Yes. We are confident that you will fully enjoy our courses. All the same, for our 8-week classes, we offer a 100% money-back guarantee before the Wednesday that Lesson #3 is sent out. If for any reason, you are not satisfied and let us know that you would like to withdraw before the Wednesday that Lesson #3 is sent, you will be promptly refunded.
For our 4-week courses, we offer a 100% money back guarantee before the Wednesday that Lesson #2 is sent out from BetterPhoto. If for any reason you are not satisfied and you let the ordering department know that you would like to withdraw before the Wednesday that Lesson #2 is sent, you will be refunded within 7 days. After the second lesson has been sent out, no refunds will be given.
Still have questions about this course?
Ask Us
Take the Next Step..
You can Get Started Today! The price is
$198.00
USD. Do this to start the class right away.
Add to Cart
today to get going in the class.
Add to Wishlist
---
Satisfaction Guaranteed!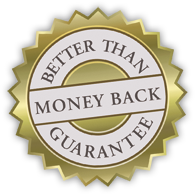 Better Than Money Back Guarantee
We Guarantee our courses.
100%, No Risk, No Hassle.
See you in class!