Get pro feedback on your photos in...
Correct & Enhance Your Images
Become a better photographer today!
Learn the valuable techniques of image correction and enhancement so you get consistently better photos with confidence - every time. Every photographer from beginner to professional can make their images better when they know what to do in Photoshop or Photoshop Elements. If you have been working haphazardly, clicking buttons and hoping for the best, this exciting 4-week online course will help you achieve the results you have always wanted with predictability. Richard Lynch, best-selling Photoshop author, will show you robust and reliable - yet uncomplicated - approaches for color correction, image enhancement and repair, and put the guesswork behind.
Key Features
Evaluate your original images to target your corrections.
Apply color correction and enhance image tone.
Image repair in a nutshell.
Quick effects and enhancements.
Enhance images with effects like sharpening, soft-focus effects, and framing.
Learn color and contrast enhancement skills to make any image more dynamic.
Use pro techniques to clean up, enhance, repair, sharpen and embellish your images.
Become privy to Richard's master step-by-step outline (workflow) for making the perfect image.
Note: This course has been adapted - with updated lessons! - from Richard's 8-week From Monitor to Print: Photoshop Workflow class.
$198.00 USD
What You Get
Benefits:
You get direct feedback on your photos from world-acclaimed, professional photographers. You can learn photography in this way from anywhere in the world.

Learn at your pace, with structure.

Be guided by a real pro instructor.

Get your photos critiqued every week.

Join students from around the world.

Go far beyond any book or DVD.

Make great pictures, again and again!
Instructor
Richard Lynch
Richard Lynch has written 9 books on Photoshop and image editing. His expertise was born following interests in photography and design, honed as the editor and designer of a photography book publishing house and perfected by working with his own images. His photographic techniques and Photoshop work are steeped in darkroom tradition and photographic theory. He has spent more than 20 years adapting the darkroom to solid digital techniques, and is confident that he can make any image more than it was when it was shot using the digital darkroom.
American born and a US resident, Richard currently lives in Romania where he runs photo tours. He teaches courses for digital photographers and hobbyists in photography and Photoshop online and in the classroom. His articles have been in a variety of publications online and in print, including Popular Photography, PCPhoto, Advanced Photoshop, Digital Photography Techniques, and Photo Techniques. His books tend to fall outside of the series typical series algorithm. His latest book, The Adobe Photoshop Layers Book (http://aps8.com/taplbcs4.html), was the first and only book devoted specifically to Photoshop layers when it first came out in 2007. A completely new edition of the layers book was released for 2012.
In his 'spare' time, Richard experiments with both modern and vintage equipment (like manual-focus lenses, extension tubes, modifications), and devises new and better schemes for image editing (often in the shower). His creative prose has been published in a variety of literary magazines and online. A culinary background and interest in malt beverages led him to competitive beer brewing, and has won awards for his brews in national competitions in the US. Richard enjoys target shooting, a skill not unlike photography, and has a strong knowledge of pellet guns and rifle optics born of his interest in camera lenses and plinking little plastic army guys. He lives to follow his interest, sneak in a little fun, and is in possession of more camera and computer equipment than anyone realistically needs – but he can justify all of it.
See his website: photoshopcs.com
Sample Photos by the Instructor
| | |
| --- | --- |
| © Richard Lynch | © Richard Lynch |
Course Outline
Lesson 1: Evaluate Your Images
Judge the quality of your original images and determine what needs to be corrected by following a checklist that works for any image.
Assignment: Write up a concise list of goals for the image and submit that.
Lesson 2: Color and Tone Correction
There are ways you can approach color and tone correction for any image that take very little thought, but that consistently result in better color and image dynamics.
Assignment: Using simple concepts explained in the lesson, step through color correction of your images, and submit before/after results.
Lesson 3: Image Repair in a Nutshell
Almost any image will need some type of adjustment to look its best, no matter how much time you spend composing it. We'll look at a few simple ways to make adjustments with much bigger implications, including cropping, using the Clone Stamp and Healing Brush, and advanced compositional changes.
Assignment: Practice making changes to your images using what you learned in the lesson and submit the results.
Lesson 4: Enhancements
There are a number of quick effects and enhancements that you can easily apply to almost any image - some which are virtually necessary. These include sharpening, soft-focus effects, and simple framing. We'll look at the basic methods for doing each of these.
Assignment: Apply enhancements to your images and submit the results.
| | |
| --- | --- |
| © Richard Lynch | © Richard Lynch |
Requirements
Richard's Photoshop 101 course, or equivalent experience using Photoshop or Elements.
Photoshop 7, CS, CS2, or CS3, or Photoshop Elements 3, 4, 5, or 6
FAQ
How will this course help me?
This course will help you achieve consistent results with images by improving exposure, color, tone, and composition using the right tools in a workflow that you can depend on for getting the most out of your images every time.
I use Elements, not Photoshop. Can I take this course?
Yes! This course is intended for Photoshop AND Elements users and contains instruction for both.
I have never used Photoshop or Elements. Should I take this course?
No. This course is intended for those with some experience. A better option for a beginner is my
Photoshop 101
course. Photoshop 101 was meant to prepare you to take this and my
Color Management for Digital Photographers
courses.
What is image enhancement?
Image enhancement is embellishing an image to improve it. Most often this means optimizing the shot you have taken through color correction, tone adjustment and composition adjustments (e.g., cropping, removing damage and distractions) rather than radical editing. Sometimes enhancement can mean adding effects and applying filters (e.g., sharpening, soft focus effects and framing). The main focus of this course is practical enhancements which are adjustments you will make to your images every day.
Is color correction hard? Does it require special equipment?
Color correction is only hard if you don't know how to do it. This course teaches practical methods for color correction that you can easily apply to any image in a few minutes. Photoshop or Elements are the only special tools you need, but it may be helpful to have a calibrated monitor and understand color management but these are tangent concerns to methods of correction. (I cover these principles in my
Color Management for Digital Photographers
course.)
Do I need a digital camera?
No. You don't need a digital camera, but you will need at least two digital images.
Do I need a printer at home?
No. None of my Photoshop courses require that you have a home printer.
Color Management for Digital Photographers
 requires printing, but encourages you to use a service.
| | |
| --- | --- |
| © Richard Lynch | © Richard Lynch |
Do I have to be online at any specific time?
No, you do not need to be online at any specific time. The lessons are sent to your email and you are also provided the Campus Square - where you interact with your classmates and instructor. This is also where you upload your photos to be critiqued by your instructor. The instructors are very punctual and respond quickly.
Will I have access to the instructor to ask questions during the photo course?
Absolutely! Students can ask questions in the special Q&A forum set up in the course's Campus Square, or can ask the instructor via email.
Do you offer a money back guarantee?
Yes. We are confident that you will fully enjoy our courses. All the same, for our 8-week classes, we offer a 100% money-back guarantee before the Wednesday that Lesson #3 is sent out. If for any reason, you are not satisfied and let us know that you would like to withdraw before the Wednesday that Lesson #3 is sent, you will be promptly refunded.
For our 4-week courses, we offer a 100% money back guarantee before the Wednesday that Lesson #2 is sent out from BetterPhoto. If for any reason you are not satisfied and you let the ordering department know that you would like to withdraw before the Wednesday that Lesson #2 is sent, you will be refunded within 7 days. After the second lesson has been sent out, no refunds will be given.
Still have questions about this course?
Ask Us
Take the Next Step..
You can Get Started Today! The price is
$198.00
USD. Do this to start the class right away.
Add to Cart
today to get going in the class.
Add to Wishlist
---
Satisfaction Guaranteed!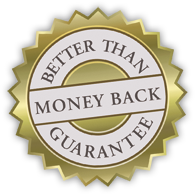 Better Than Money Back Guarantee
We Guarantee our courses.
100%, No Risk, No Hassle.
See you in class!