Get pro feedback on your photos in...
Paint Shop Pro
Become a better photographer today!
Learn how to use Corel Paint Shop Pro - a veritable powerhouse of features and image-making potential. This excellent 4-week online course is taught by instructor and master photographer-author Robin Nichols. In this class, you'll explore the many and varied image retouching tools, how to use layers, understanding the many cool filter effects in this program, Blend Mode effects, advanced tone controls and even the creative natural media drawing tools.
Key Features
Workspace and Tonal Enhancement Basics
Simple Retouching, Localized Tone Control and Basic
Selection Techniques
All About Using Layers and Working with Text
Blend Modes and Natural Media
Program, functions and feature overview.
Learn the easy fixes, with impressive "automatic" tone-fixing tools.
Understanding the need for Advanced tone control.
Learn about how to work with layers and then how to add text layers to the picture.
Get professional-looking effects using the image retouching tools.
Create really impressive fine art painting effects.
Note: This 4-week class is adapted from Robin Nichols's former 8-week Paint Shop Pro course.
$198.00 USD
What You Get
Benefits:
You get direct feedback on your photos from world-acclaimed, professional photographers. You can learn photography in this way from anywhere in the world.

Learn at your pace, with structure.

Be guided by a real pro instructor.

Get your photos critiqued every week.

Join students from around the world.

Go far beyond any book or DVD.

Make great pictures, again and again!
Instructor
Robin Nichols
Like many other instructors at BetterPhoto.com, I'm in the envious position of combining one of my life's passions, photography, with my job, photography and publishing. And, although I'm normally in front of the computer way too much for my liking these days, it remains one of the best jobs in the world.
Originally from the UK, I've spent the past 20 years living in Sydney, Australia, working initially as a rostrum cameraman in the audio-visual business, then as freelance photographer. More recently, I've worked (struggled) as a freelance writer, then as a full-time magazine editor for eight years. For the past six years, I have run my own small publishing business, Better Digital, producing Australia's largest-selling specialist digital photo publication. (As an interesting side note, Better Digital is not affiliated with BetterPhoto.com - we simply have similar good tastes when it comes to names!)
With the launch of Better Digital, I have passionately pursued the goal of producing clear, well-illustrated publications written in "plain English". I have continued to develop this plain-speaking style in another specialist magazine devoted almost exclusively to Photoshop, called Better Photoshop Techniques. Recently I added Digital Photo ART to the list of publications. This deals more with project-based techniques for the digital enthusiast whose interests, those with a crafty bent wanting to do something more with their shots.
I have also written several books, including www.imaging, efficient photo preparation for the world wide web (Watson Guptill, ISBN: 0-8230-5855-7), co-written with Philip Andrews, Paint Shop Pro 8: a guide to creating professional images (Focal Press/Elsevier Press, ISBN: 0-240-51698-2), and recently, Paint Shop Pro 9 for Photographers, co-written with Ken McMahon, (Focal Press/Elsevier Press, ISBN: 0-240-51981-7).
When I'm not out shooting, travelling, or writing for one of my publications, I teach digital photography! In fact, there's nothing I like better than showing newcomers how to fine-tune their shooting skills and how to get the best from their gear. The beauty of digital photography, of course, is that students can appreciate their efforts almost immediately, a fact that fuels greater exploration of the craft.
Sample Photos by the Instructor
| | |
| --- | --- |
| © Robin Nichols | © Robin Nichols |
Course Outline
Lesson 1: Workspace and Tonal Enhancement Basics
We look at the basics of how Paint Shop Pro works. What all the different tools do, the kind of photo you'd use them on and how they work. We look at the interface (that's the bit that you see when the program is first started), file formats, helper Wizards, the palettes and the various tool bars. Importantly, we learn which ones are best to use as a beginner, and which ones to leave till you are a little more experienced!
Assignment: Find various pictures and use techniques described in the lesson. For each shot, upload both the 'before' and 'after' pictures.
Lesson 2: Simple Retouching, Localized Tone Control and Basic Selection Techniques
In this lesson, we look at the program's brush-based drawing, erasing and painting tools, as well as how to get the best out of its professional quality retouching tools. Learn how to darken small sections of the image, paint in colour or remove that colour entirely. Repair the family heirlooms or create some neat retouched effects of your own. We then move into a general overview of Paint Shop Pro's selection tools including when and where you'd use them, plus its powerful selection modifier tools.
Assignment: Use either the downloadable images provided, or your own photos, and try out the lesson's various techniques.
Lesson 3: All About Using Layers and Working with Text
Paint Shop Pro comes well equipped with Layers, a feature that allows us to add multiple elements to one document while retaining complete editability of each individual part. You can rotate, swivel or flip any of the layer elements independently of the rest of the document – and do the same if it's a text layer or a graphic layer. Learn how to create your own collages and how to use the Eraser tools to remove and blend layers into one impressive photo-collage. Most of us want to add text to a photo, even if it's just to digitally 'sign' our photos. In this lesson we look at Paint Shop Pro's Text feature. How it works, how to bring picture, logo and text elements together to complete projects like a business card.
Assignment: Create your own business card using text (obviously) and any special effects that you feel are appropriate to that text, as well as importing a picture pertinent to the design. Use the techniques described. Also, I would like you to create your own poster comprising of six shots and text layers complete with three-dimensional special effects were you think appropriate.
Lesson 4: Blend Modes and Natural Media
Moving on from our newfound understanding of layers, learn 'how to wow' with Blend Modes. Use this layer-based feature to create truly awesome blended visuals for both images and for text layers! Move away from layers and check out how cool this feature is using Blend Modes with the paint and drawing tools! One of the main features that separate this program from the rest lies in its Natural Media paint tools. These are designed for you to recreate 'the look' and actually, 'the feel', of using 'real' paint, crayon, pencil and even oils. It's a great feature and produces fantastic results, especially if the result is to be printed onto canvas or textured inkjet papers.
Assignment: Using one of your own shots, add some text and change the Blend Modes. Create at least three versions.
| | |
| --- | --- |
| © Robin Nichols | © Robin Nichols |
Requirements
Corel Paint Shop Pro version 9 or above.
A PC with plenty of RAM (at least 512Mb RAM) and a fast processor (2Ghz+ CPU is also recommended).
Recommended that you know the basics about navigation and image-editing.
FAQ
Is this course intended for beginning, intermediate, or advanced image-makers?
BetterPhoto's Paint Shop Pro course targets the advanced beginner to intermediate level student. For this reason, it's essential to know the basics about navigation and photo-editing to progress speedily through this course.
What version of Paint Shop Pro do I need?
Corel bought out the original design company, Jasc, in late 2004, so, although we have only seen one upgrade from Corel so far (and this was quite significant!), we deal with this and previous (Jasc) versions of the software, namely Paint Shop Pro version 9 or above. You'll be able to do most of the exercises using these older versions but bear in mind, some of the assignments are based around the program's natural media drawing tools (found in versions 9 and 10) so in order to get the max from this class, you should consider upgrading.
Is Paint Shop Pro a good program?
Absolutely! Everyone has heard of Adobe Photoshop, most complain about its cost – Corel Paint Shop has the same sort of tools, in fact it has tools that Photoshop hasn't even discovered yet so be prepared to be amazed at the things that this economical, yet extremely powerful software program can do for your image-making!
| | |
| --- | --- |
| © Robin Nichols | © Robin Nichols |
Do I have to be online at any specific time?
No, you do not need to be online at any specific time. The lessons are sent to your email and you are also provided the Campus Square - where you interact with your classmates and instructor. This is also where you upload your photos to be critiqued by your instructor. The instructors are very punctual and respond quickly.
Will I have access to the instructor to ask questions during the photo course?
Absolutely! Students can ask questions in the special Q&A forum set up in the course's Campus Square, or can ask the instructor via email.
Do you offer a money back guarantee?
Yes. We are confident that you will fully enjoy our courses. All the same, for our 8-week classes, we offer a 100% money-back guarantee before the Wednesday that Lesson #3 is sent out. If for any reason, you are not satisfied and let us know that you would like to withdraw before the Wednesday that Lesson #3 is sent, you will be promptly refunded.
For our 4-week courses, we offer a 100% money back guarantee before the Wednesday that Lesson #2 is sent out from BetterPhoto. If for any reason you are not satisfied and you let the ordering department know that you would like to withdraw before the Wednesday that Lesson #2 is sent, you will be refunded within 7 days. After the second lesson has been sent out, no refunds will be given.
Still have questions about this course?
Ask Us
Take the Next Step..
You can Get Started Today! The price is
$198.00
USD. Do this to start the class right away.
Add to Cart
today to get going in the class.
Add to Wishlist
---
Satisfaction Guaranteed!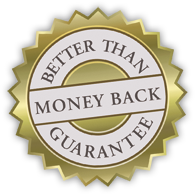 Better Than Money Back Guarantee
We Guarantee our courses.
100%, No Risk, No Hassle.
See you in class!