Get pro feedback on your photos in...
Adobe Lightroom - A Comprehensive Look
Become a better photographer today!
Find out how to take full advantage of all the power and tools found within the awesome Lightroom program. Lightroom was designed by Adobe to handle a photographer's needs from input to output - and professional photographer and digital darkroom expert Lewis Kemper will guide you every step of the way. In his 4-week online class, Lewis will take you through all the modules in Lightroom in great depth, pointing out all the great features so that you can decide which tools you wish to incorporate into your own personal workflow.
Key Features
Getting Started: Modules and Menus
Managing the Library, Plus Quick Develop
Develop Module: the Most Important Module of All!
Working with Slideshow, Print and Web Modules
Course updated to include Lightroom 3!
Perfect for hobbyist and professionals
Perfect for anyone with a collection of digital images that they want to organize, search and process, and output their images.
In-depth looks into the 5 modules: Library, Develop, Slideshow, Print and Web.
Extensive instructions in how to get the most out of input and keywording.
In-depth look at setting up Lightrooms Preferences and working with the menus.
Learn two methods for Raw processing and decide which works best for you.
Learn how to apply batch processing and keywording to speed your workflow.
$198.00 USD
What You Get
Benefits:
You get direct feedback on your photos from world-acclaimed, professional photographers. You can learn photography in this way from anywhere in the world.

Learn at your pace, with structure.

Be guided by a real pro instructor.

Get your photos critiqued every week.

Join students from around the world.

Go far beyond any book or DVD.

Make great pictures, again and again!
Instructor
Lewis Kemper
Lewis Kemper specializes in nature and wildlife photography, and has taught over 100 workshops and classes on landscape photography and/or the digital darkroom.
He is a contributing editor to Outdoor Photographer and PC Photo magazines.
His work is represented worldwide by Getty Images, Index Stock Imagery, Stock Connection, AFLO Japan and DRK Photo. Lewis's computer-enhanced images have been used in advertisements, cards, bookmarks and calendars. He is the photographer of Ancient Ancestors of the Southwest, published in 1996.
He also runs a custom digital printing service to create fine art prints for photographers.
Lewis has been honored to be included into Canon's Explorers of Light program, which recognizes 78 of the country's most influential photographers.
Sample Photos by the Instructor
| | |
| --- | --- |
| © Lewis Kemper | © Lewis Kemper |
Course Outline
Lesson 1: Getting Started
In this lesson, we will explore the different modules in Lightroom and check out all the various menu items. Also: Lightroom vs. Bridge.
Assignment: Try and import a few items (even though we will cover Import extensively in Lesson 2). Play with the different views, try dimming the lights, check out the Loupe and Grid modes and generally feel good about navigating through the modules. In the next lesson, you are going to learn how to import and keyword images as well as Quick Develop. Also, in advance of Lesson 2, get a folder or memory card of images ready for import into Lightroom.
Lesson 2: The Library
This module is one of the more complex modules in Lightroom. In here, you can perform many of the tasks that will make managing your library easier from importing to applying keywords and rating and editing images. You can delete images from your library and/or delete the images from your computer. You can also "Quick Develop", apply basic Raw processing functions, and read the metadata on your image. In this module, you can compare images and search for images using a wide variety of search criteria from lens type, camera model, date, location, keyword, Creator, any text and date range.
Assignment: Import and keyword some images. Take a screen shot. Post two pictures that you discovered (or rediscovered) once you imported and got organized.
Lesson 3: Develop Module
In this lesson, we are going to learn about the Develop Module in Lightroom. As far as I am concerned, as a photographer, this is the most important module of all because it is here that I take my Raw file and craft it from its raw state and convert it into a working image.
Assignment: Process the three images and export them as JPEG files to fit 500 x 500 pixels and then post them into class.
Lesson 4: Slideshow, Print and Web Modules
In this lesson, we are going to look at the next three modules used for creating slideshows, printing images and creating Web galleries.
Assignment: Create a 6-image PDF slide show and email it to me. Don't forget to customize the layout a bit! Create a Print template you like and make a screen shot and post it to class.
Create a Web gallery design you like and take a screen shot and post that to the Web site.

| | |
| --- | --- |
| © Lewis Kemper | © Lewis Kemper |
Requirements
Adobe Lightroom 1, 2 and 3
Note: Free trial version for Lightroom 3 is available through adobe.com
Digital camera
A desire to learn!
FAQ
Who is this class best suited for?
Any digital photographer who is building a collection of images that they want to easily manage in Adobe Lightroom.
What kind of equipment will I need to complete the assignments?
A digital camera  and a copy of Lightroom 1.0 - either full or trial version. NOTE: This course is updated with videos for Lightroom 2!
| | |
| --- | --- |
| © Lewis Kemper | © Lewis Kemper |
Do I have to be online at any specific time?
No, you do not need to be online at any specific time. The lessons are sent to your email and you are also provided the Campus Square - where you interact with your classmates and instructor. This is also where you upload your photos to be critiqued by your instructor. The instructors are very punctual and respond quickly.
Will I have access to the instructor to ask questions during the photo course?
Absolutely! Students can ask questions in the special Q&A forum set up in the course's Campus Square, or can ask the instructor via email.
Do you offer a money back guarantee?
Yes. We are confident that you will fully enjoy our courses. All the same, for our 8-week classes, we offer a 100% money-back guarantee before the Wednesday that Lesson #3 is sent out. If for any reason, you are not satisfied and let us know that you would like to withdraw before the Wednesday that Lesson #3 is sent, you will be promptly refunded.
For our 4-week courses, we offer a 100% money back guarantee before the Wednesday that Lesson #2 is sent out from BetterPhoto. If for any reason you are not satisfied and you let the ordering department know that you would like to withdraw before the Wednesday that Lesson #2 is sent, you will be refunded within 7 days. After the second lesson has been sent out, no refunds will be given.
Still have questions about this course?
Ask Us
Take the Next Step..
You can Get Started Today! The price is
$198.00
USD. Do this to start the class right away.
Add to Cart
today to get going in the class.
Add to Wishlist
---
Satisfaction Guaranteed!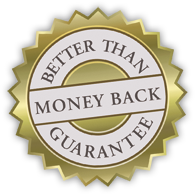 Better Than Money Back Guarantee
We Guarantee our courses.
100%, No Risk, No Hassle.
See you in class!