Get pro feedback on your photos in...
Digital SLR Exposure Techniques
Become a better photographer today!
Start getting the best exposures out of your digital camera, ones that will not require extensive "fixes" in software later. Want to make exposures that communicate the "mood" and your point of view of every subject and scene? Want to learn how to diagnose every shot in the field, without diving into dark alleys so you can see the image on your LCD screen? If so, then this four-week intensive course in DSLR Exposure Techniques is for you. Taught by George Schaub, an experienced BetterPhoto instructor, editorial director at
Shutterbug
magazine and a workshop leader who has taught both in the U.S. and abroad, this course will guide you through every aspect of exposure control and manipulation.
Key Features
Introduction and Basics of Exposure
Metering Modes and Patterns
Diagnostics and Workflow
Raw Processing and Exposure Scenarios

An exposure basics refresher for serious hobbyists and intermediates
The difference between "objective" and "subjective" exposure
Exploration of Dynamic Range and exposure latitude
Metering modes and patterns
The secret (and perhaps simplest) mode: Manual
Exposure diagnostics - in-camera
Exposure "workflows" in the field
Why "Raw" format adds to exposure options
Real-world exposure scenarios

$198.00 USD
What You Get
Benefits:
You get direct feedback on your photos from world-acclaimed, professional photographers. You can learn photography in this way from anywhere in the world.

Learn at your pace, with structure.

Be guided by a real pro instructor.

Get your photos critiqued every week.

Join students from around the world.

Go far beyond any book or DVD.

Make great pictures, again and again!
Instructor
George Schaub
George Schaub is the Editorial Director of
Shutterbug
and
Petersen's Photographic
magazines.
He has authored many books, including Focus on Digital Landscape Photography (Lark Books, 2010), The Digital Photolab: Advanced Black and White Techniques, and Using Your Digital Camera.
George has taught black and white printing in the US and abroad, and is a member of the faculty at the New School University in New York. His work has appeared in numerous gallery shows and museums.
For more of his work, visit his Web site: gschaub.zenfolio.com
Note: Don't miss the BetterPhoto interview with George Schaub.
Sample Photos by the Instructor
| | |
| --- | --- |
| © George Schaub | © George Schaub |
Course Outline
Lesson 1: Introduction and Basics of Exposure
Exposure Refresher Course
Objective and Subjective Exposures
ISO, Aperture and Shutter Speed
Equivalent Exposures
Dynamic Range
Exposure Latitude
Assignment: Shoot scenes with different ISO settings, and compare the results. Also: Find your slowest handholdable shutter speed.
Lesson 2: Metering Modes and Patterns
Multi-Pattern (Matrix or Evaluative)
Center weighted
Spot metering
Priority modes: Aperture- and shutter-priority
Program mode
Manual exposure mode
Exposure compensation—when you need it
Exposure lock
Assignment: Shoot several images of a contrasty scene with light and dark values - using the different metering modes. Also: an offline exercise.
Lesson 3: Diagnostics and Workflow
Histograms
Highlight Warnings
Why Manual Mode is Easy, and Fast (When to use it and how)
Manual in the field
Autoexposure Modes: (When to use them and how)
Overrides, "placement" of reading
Autobracketing
Assignment: Try out the different exposure modes - in different lighting situations. Determine when you might want to use each one! Also: offline exercise.
Lesson 4: Raw Processing and Exposure Scenarios
How Raw aids in exposure control
Raw exposure "fixes"
Shooting in Flat Light
Shooting in "Normal" Light
Shooting in High Contrast situations
Shooting in Dim light
Enhancements in camera and software for all lighting conditions
Getting great silhouettes; using slow sync; shooting in bright light, and more
Assignment: Make as good an exposure as you can using Raw exposure mode. Open the image in a Raw converter and use the exposure and other controls to enhance the image. Upload the before and after results.
| | |
| --- | --- |
| © George Schaub | © George Schaub |
Requirements
DSLR camera. All models should have all the features you need for this course. If you are not sure what the following options mean, just check in your instruction book Index to see if the camera you are going to be using for this course has:
- An option for choosing exposure modes.
- An option for choosing metering patterns.
- The ability to record in Raw file format.

This course is aimed at the serious hobbyist-to-intermediate user who wants to hone their exposure skills. If you have no experience with a DSLR (you are just opening the box as you read this) but have worked with a film SLR camera, this course is fine for you.

You should also have:
- Memory cards
- A card reader or cables to download images from camera to computer
- A computer loaded with image processing software, such as Adobe Photoshop Elements or Photoshop.
- The desire to get the best exposures you ever got from your camera.

FAQ
What is the skill level required for this course?
You should have a basic working knowledge of your camera and some familiarity with creating image effects by manipulating aperture and shutter speed. However, these effects will be reviewed as we work.
What kind of experience level should I have?
Having worked with a film or digital SLR is helpful, as this is not a course in camera use per se; it is about getting great exposures using camera controls and functions. It is also about "seeing the light" and developing your eye for brightness values and how to manipulate them. This course is about maximizing all the tools and programs available in a digital SLR and accompanying software for great exposures, ones that will allow you to make great prints and other forms of output without always having to correct the image after downloading.
Will we cover composition?
This course is more about getting great exposures regardless of the subject matter or personal compositions.
Will I need a digital SLR camera to take this course?
Yes. This course will help you thoroughly understand how to work with your camera to make the best exposures you can with it.
What other items will I need?
You will need a card reader or cables to download your images from your camera, a computer loaded with the camera's or other Raw converter software (such as Adobe Camera Raw in Photoshop), and an image editing program such as Photoshop Elements or CS and above; lacking Photoshop, you can work with the software supplied with your camera.  
Is this course for pros only, or can I use any digital SLR?
This course is for all digital SLRs, and each tool and application discussed will be common to 99 percent of the cameras. Some cameras, such as pro digital SLRs, may have more functions than we might cover. This material will apply to a wide range of Digital SLR camera from all makers.
Will we work with Raw file format exclusively?
No, but we will cover Raw thoroughly. As you'll see, shooting Raw is one of the most important elements in gaining ultimate exposure control.
| | |
| --- | --- |
| © George Schaub | © George Schaub |
Do I have to be online at any specific time?
No, you do not need to be online at any specific time. The lessons are sent to your email and you are also provided the Campus Square - where you interact with your classmates and instructor. This is also where you upload your photos to be critiqued by your instructor. The instructors are very punctual and respond quickly.
Will I have access to the instructor to ask questions during the photo course?
Absolutely! Students can ask questions in the special Q&A forum set up in the course's Campus Square, or can ask the instructor via email.
Do you offer a money back guarantee?
Yes. We are confident that you will fully enjoy our courses. All the same, for our 8-week classes, we offer a 100% money-back guarantee before the Wednesday that Lesson #3 is sent out. If for any reason, you are not satisfied and let us know that you would like to withdraw before the Wednesday that Lesson #3 is sent, you will be promptly refunded.
For our 4-week courses, we offer a 100% money back guarantee before the Wednesday that Lesson #2 is sent out from BetterPhoto. If for any reason you are not satisfied and you let the ordering department know that you would like to withdraw before the Wednesday that Lesson #2 is sent, you will be refunded within 7 days. After the second lesson has been sent out, no refunds will be given.
Still have questions about this course?
Ask Us
Take the Next Step..
You can Get Started Today! The price is
$198.00
USD. Do this to start the class right away.
Add to Cart
today to get going in the class.
Add to Wishlist
---
Satisfaction Guaranteed!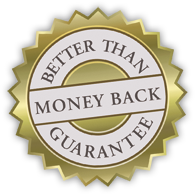 Better Than Money Back Guarantee
We Guarantee our courses.
100%, No Risk, No Hassle.
See you in class!