Get pro feedback on your photos in...
Photoshop 101: The Photoshop Essentials Primer
Become a better photographer today!
Open the doors to the exciting world of image editing with this introduction to Photoshop and Photoshop Elements. This 4-week course will get you up and running in Photoshop or Elements so you can edit images with confidence, mapping a complete plan to approaching any image! Richard Lynch, author and digital imaging specialist, leads you through your journey, and shows you how to get better images every time.
Key Features
Explore the Photoshop/Photoshop Elements interface so you understand navigation of the program and how to access its powerful features
Learn about handling your images, using file formats correctly, storing images, and working with color management.
Simplify your approach to editing by discovering the Essential Tool Belt.
Practice applying the easy techniques you learn on your own images, and gets results every time!
Updated! This course covers Photoshop CS4, CS3, CS2, CS, 7, and Photoshop Elements 8, 7, 6, 5, 4 and 3. (If you don't own the program, you can download a trial version from Adobe for FREE - with the month trial being perfect for class!)
Each lesson has been enhanced to cover differences in features and shortcuts between Photoshop and Elements.
We cover all the concepts and tools you need to get started editing your own images with better results.
Become confident and proficient working in Photoshop so you can explore other exciting Photoshop courses at BetterPhoto.com!


$198.00 USD
What You Get
Benefits:
You get direct feedback on your photos from world-acclaimed, professional photographers. You can learn photography in this way from anywhere in the world.

Learn at your pace, with structure.

Be guided by a real pro instructor.

Get your photos critiqued every week.

Join students from around the world.

Go far beyond any book or DVD.

Make great pictures, again and again!
Instructor
Kerry Drager
The content manager and course advisor for BetterPhoto.com, Kerry Drager is also the co-author of two books:
The BetterPhoto Guide to Creative Digital Photography
(2011) and
The BetterPhoto Guide to Photographing Light
(2012). In addition, he teaches photography online at BetterPhoto's digital photography school.
Be sure to check out Kerry's Pro BetterPholio website - www.kerrydrager.com.
Also, he is the author of Scenic Photography 101, the photographer of the photo-essay books The Golden Dream: California from Gold Rush to Statehood and California Desert , a contributor to the books BetterPhoto Basics and Daybreak 2000, and a co-photographer of Portrait of California. In addition, Kerry was profiled in the April 1994 issue of Outdoor Photographer magazine and in Vik Orenstein's 2010 book The Photographer's Market Guide to Building Your Photography Business, and his website was showcased in the January 2003 issue of Shutterbug magazine. Plus, his work has appeared in magazines, Hallmark cards and Sierra Club calendars, and in advertising campaigns for American Express and Sinar Bron Imaging.
Also see his Visual Creativity photography blog, and follow Kerry on Facebook.
Kerry lives with his wife, Mary, on California's Central Coast, with their three Newfoundland dogs, four cats, and a mixed terrier.
Sample Photos by the Instructor
| | |
| --- | --- |
| © Richard Lynch | © Richard Lynch |
Course Outline
Lesson 1: Alice in Photoshopland - The Photoshop Fundamentals
One thing about Alice: She went from one mystical adventure to the next virtually without fear. You want to be fearless, like Alice, but your journey into Photoshop can be much more productive with a map. The first thing we will do is be sure you have installed the program correctly, then we'll reset your interface so we have a common place to start poking around. Next we'll look at palettes and menus, how to move them, open, close and explore. We'll look at how to set up your view of the program for daily work, look at which palettes you should keep in view, and look at one or two you shouldn't ignore. We'll poke around in the preferences for a wealth of ways to change your experience with the program. Finally, we'll open the help menu and find some very important information. Your assignment will be a quick quiz based on what we've learned to be sure you know what you need about navigating the program.
Assignment: After this lengthy reading assignment, we need a simple, quick assignment. There are a few quick things I'd like you to do: one to see if you were paying attention, and another to get to know more about you and your images.
Lesson 2: Images Safely In, Images Safely Out
One of the most important things you will do in Photoshop is open and save your images. There are several different ways to do this, and some potentially confusing cross roads that we'll learn to traverse. We'll look at handling image size and resolution (just the essentials), and look at different ways to see your images on screen (zooming, etc.). Once we've looked at an image, we'll talk about saving, storing and being sensible about your image work: backing up safely (archiving), naming files, choosing file formats, and keeping your images in order.
Assignment: You should be sure to go through all of the Try It Now segments of this lesson to be sure you are comfortable with opening images, image navigation, and working with the image window. Once you are sure of your abilities to navigate your image, please take a moment to catalog images using the metadata description you saved. Take screen shots of each of the description screens, and submit for the class.
Lesson 3: The Essential Tool Belt: The Tools You Need and Their Uses
There are tools and functions you need to use every time you use Photoshop, those you will reach for on occasion, those you really don't use much at all, those that are not needed and those you'd be best not using. When an electrician has to climb a telephone pole to fix a problem, he/she doesn't bring every tool. The practical, handy tools go in the belt, and up the pole they go, ready to handle any problem. This lesson presents the essential tools list, cutting down your need-to-know tools to a handful from the many at your disposal. With a core set of tools you'll be able to focus on learning just those rather than trying to grasp each and every nuance of every tool on every menu.
Assignment: In this assignment, we'll be looking at several major concepts and testing them out so you can get an idea of how they fit into your image editing strategy. These concepts are selection, layering corrections and masking.
Lesson 4: Image Editing Basics, and Not So Basics
With the understanding gained from the first three lessons, you are ready to start working on images. The inevitable question is: what do I do? The answer to that question can come in the likes of books hundreds of pages long, but in this lesson we cut that volume down as well to the imaging essentials: things you will need to know the basics of in your approach to any image. This lesson walks through simple steps for cropping, quick touch-ups, quick basic color correction (with and without auto-tools), isolating image areas, and peeking back at color management. You won't become an image editing expert in one lesson, but this short introduction will round out the volume of what you need to do, and perhaps point you in the direction of what you want to explore next in your journey into Photoshop!
Assignment: You have two assignments to choose from for this final lesson. You can either work through the process just described in this lesson, or try to work on the process using your own image. The latter is suggested so that you are sure you know how to apply the process to your images outside of class. If you choose to work on your own image, start with working up a hit list, and then start working through the process. Feel free to ask a lot of questions! Go through the process and upload a Before and After shot of the image to your the Campus Square for the assignment.
| | |
| --- | --- |
| © Richard Lynch | © Richard Lynch |
Requirements
This course covers Photoshop CS4, CS3, CS2, CS, 7, and Photoshop Elements 8, 7, 6, 5, 4 and 3. The instructor has written books on both Photoshop and Elements, and he will gladly help students with either program. Adobe also offers 30-day FREE trials.
Basic computer competency and familiarity with your system is required. This means using a computer for 6 months or more. For example, you must be able to use a mouse, and have a basic understanding of file management (understand how to get images on and off your camera, delete files, copy and move to different folders).
FAQ
I have had Photoshop for several years but can't seem to crack the shell, is this the course for me?
This is it! Photoshop is such a broad program that users generally don't have a clue where to start. We start right from loading the program and move you through everything you have to know to feel comfortable with Photoshop. We talk about how to familiarize yourself with navigating the menus, palettes and the program, what tools you really need to use (and which you don't), and we go through an image editing sample from start to finish so you know the basics of what to do with every image. This is the class that can get you started, give you an approach to image editing, and make you confident in exploring more!
I am terrified by Photoshop. I see all the neat things others do and have no idea where to start. Can you help?
Certainly! Photoshop is only terrifying to people because there is so much to explore. If there were ever a course that would hold your hand and soothe you about your Photoshop fears, this one is it! This course shows you how to begin your exploration, which things are important to focus on, and how to get a grip on the program. You'll walk away with a plan, and fear will be a thing of the past. Come on and explore!
I don't own Photoshop yet, but I am considering it. Can I take this course?
That's a great idea! Adobe offers a 30-day trial of Photoshop, and this course is the ideal exercise to go along with that free 30 days of exploration! You can learn all about the program, how it works, what it can do, what's important and what is not, and if it is right for you. If you have the feeling you are going to be purchasing Photoshop, or even if you are mostly unsure, this course can help you gain the confidence to make your decision!
I have several courses that I want to take on Photoshop, but my skills are probably not up to par with users who take those courses. Will this class help?
Absolutely! This course will get you situated in the program, set up, make you comfortable where to find immediate help with tools, and hand you an outline of tools and things to do to work through image editing on any image. The goal of the course is exactly to be a primer that makes you confident enough to take other classes.
I have been using Photoshop for several years and think I know the basics, but would this course help me anyway?
It very well could! This course is meant to give you a solid foundation in the program. Even if you have been toying with filters and using Photoshop minimally for changing file types, or not feeling you are grounded, this course may be just the thing you need to solidify your workflow. If you have no idea what to do with color settings, don't know which tools to use, and go at your image editing willy-nilly without any real confidence that you are doing the right thing, all of those problems will be solved in just 4 lessons.
I use Photoshop Elements. Can I take this course?
Yes! There is always the option of using the trial version of Photoshop to take the course, and you will find that most of the class is applicable to Elements. The course is intended mostly for Photoshop users, so it won't be exactly the same, but most things can be adapted for Elements users as well. Beside having written books on Photoshop, Richard Lynch, the course instructor, has written books about Elements 1 & 2, 3 and 4 for Mac and PC. If you have any problems with the course materials and don't see how they apply to Elements, just ask and Richard will gladly help you with solutions.
Will I be a Photoshop master by the end of this course?
I read once in an article in a pre-press magazine that Photoshop took 5 years to master. It was sobering at the time as I was fairly new at working with Photoshop and I was searching for answers as to how to learn the program quickly. While I was reading I realized that the time the article was written, Photoshop wasn't even five years old, so no one could have been working with it for that long: the claim by the author seemed to be that no one could really be a master. After 15 years of using Photoshop daily, I still find ways to learn something new every day. The goal of this course is not to make you a master, but to give you what you need so you have the best chance of achieving mastery.
| | |
| --- | --- |
| © Richard Lynch | © Richard Lynch |
Do I have to be online at any specific time?
No, you do not need to be online at any specific time. The lessons are sent to your email and you are also provided the Campus Square - where you interact with your classmates and instructor. This is also where you upload your photos to be critiqued by your instructor. The instructors are very punctual and respond quickly.
Will I have access to the instructor to ask questions during the photo course?
Absolutely! Students can ask questions in the special Q&A forum set up in the course's Campus Square, or can ask the instructor via email.
Do you offer a money back guarantee?
Yes. We are confident that you will fully enjoy our courses. All the same, for our 8-week classes, we offer a 100% money-back guarantee before the Wednesday that Lesson #3 is sent out. If for any reason, you are not satisfied and let us know that you would like to withdraw before the Wednesday that Lesson #3 is sent, you will be promptly refunded.
For our 4-week courses, we offer a 100% money back guarantee before the Wednesday that Lesson #2 is sent out from BetterPhoto. If for any reason you are not satisfied and you let the ordering department know that you would like to withdraw before the Wednesday that Lesson #2 is sent, you will be refunded within 7 days. After the second lesson has been sent out, no refunds will be given.
Still have questions about this course?
Ask Us
Take the Next Step..
You can Get Started Today! The price is
$198.00
USD. Do this to start the class right away.
Add to Cart
today to get going in the class.
Add to Wishlist
---
Satisfaction Guaranteed!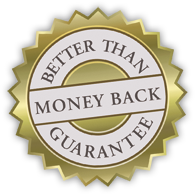 Better Than Money Back Guarantee
We Guarantee our courses.
100%, No Risk, No Hassle.
See you in class!