Get pro feedback on your photos in...
Out and About with Your Camera
Become a better photographer today!
This fun course is about getting out and capturing memorable moments. So often, we only pull our camera out if we are going on a trip, having a party, or attending a family function. But how many times have you wished you had a camera when you were going to work or running errands? We see that "moment in time" and wish we had the knowledge or courage to record that isolated incident or person. In this course, taught by Susan and Neil Silverman, you will develop skills for thinking and reacting quickly to come up with winning photos. This class will motivate you, help you see your own surroundings with a fresh viewpoint, and improve your technical skills so you feel comfortable being "out and about" with your camera.
Key Features
Skill Level: Upper Serious Hobbyist, Intermediate & Advanced
Know Your Camera
The Lens: Love It or Leave It
Perspective Is Powerful
Movement: Punch Vs. Paralysis ... How to capture motion
Filling, Not Flooding, With Your Flash
Color Vs. Black and White, and the Light
Breaking the Ice ... Meeting and photographing that stranger on the street.
Go With the Flow ... Sequencing is the secret to success

New course name (formerly Street Photography), same great content!
Intermediate level (well-versed in photographic vocabulary).
Learn and develop techniques to grab that "instant in time" and turn it into a lifetime memory.
Build a portfolio of captured images that zing.
No longer think, "I wish I had caught that with my camera" … now you'll learn how.
$396.00 USD
What You Get
Benefits:
You get direct feedback on your photos from world-acclaimed, professional photographers. You can learn photography in this way from anywhere in the world.

Learn at your pace, with structure.

Be guided by a real pro instructor.

Get your photos critiqued every week.

Join students from around the world.

Go far beyond any book or DVD.

Make great pictures, again and again!
Instructor
Susan and Neil Silverman
Susan and Neil Silverman have taught photography extensively for over ten years. Their enthusiasm and hands-on approach make them a popular teaching team with both online courses and on-location workshops. Their knowledge and experience encompass both digital media and film (35mm, medium and large format).
Susan's and Neil's work appears in publications for Sierra Club, Microsoft, Air Canada and numerous magazines and other publications. Their work is represented by Getty Images, Fogstock Images, and the California State Park System. Design firms represent their work nationally and internationally.They're in demand as speakers for professional photographic organizations such as Professional Photographers of America and are professional members of the National Association of Photoshop Professionals.
Their expertise includes landscape, macro and wildlife photography and their background in commercial work gives them added insight into all forms and aspects of light.
In their BetterPhoto online courses, Susan and Neil will help you put gusto, snap and zing into your images so that your own experience and knowledge base will be enriched. We know you'll find their online photography courses to be fun and exciting.
Sample Photos by the Instructor
| | |
| --- | --- |
| © Susan and Neil Silverman | © Susan and Neil Silverman |
Examples of Student Photos
View photos by previous students. You can make pictures like this too!


| | |
| --- | --- |
| © Wanda Judd | © Wanda Judd |
Course Outline
Lesson 1: Know Your Camera
This is about how to "Go - Shoot" ... not "Stop, Think, Shoot"!!
Learning the functions of your camera so that it is second nature to you. How to shoot without a tripod - tips on hand holding. Predetermining f-stops and shutter speeds while shooting quickly in different situations.
Assignment: Experiment by shooting a stationary subject with hand-holding at different shutter speeds - to see just where your images start to break down (i.e., lose sharpness). Analyze your results.
Lesson 2: The Lens: Love It or Leave It
Which is the best lens for street photography: How to evaluate your "stuff". What works for nature may not work "on the street"!
Assignment: Choose a subject or scene, and shoot it with a normal, wide angle, and telephoto lens. Send in one image demonstrating selective focus - from your lens of choice. Give us an image with impact, drama, or mood.
Lesson 3: Perspective Is Powerful
What is the best perspective for your lens and the situation?
Change your position or change your lens - what works best?
Assignment: Shoot a street image with an unusual perspective; you may use your lens of choice. Also, "make" an image happen: find a wall, lines, lights, reflections, and previsualize the result -w aiting for the right person or subject to come into your "canvas".
Lesson 4: Movement: Punch Vs. Paralysis
Movement is exciting; how to capture it. "On Purpose Blur" created in your camera, not on your computer - creates interest, spice, and gusto. Slow shutter speed can bring drama into your imagery.
Panning and beyond the pan: panning to perfection, then reverse panning, and now panning and zooming altogether!
Assignment: Submit two good street scenes; one freezing the action and one showing the motion involved. Also submit images showing panning and successful zooming of a scene
Lesson 5: Filling, Not Flooding, With Your Flash
Using your flash for a kiss of light, not a blast.
Practical tips on how much fill is required for what type of situations. Learning to be ready in a scenario so that you do not have to stop and think and futz with your flash.
Assignment: Try and capture a good street photography image that demonstrates the use of the flash unit.
Lesson 6: Color Vs. Black and White, and the Light
Choices when you are photographing on the Main Street of Ugly Ville. Working with black and white in camera or with an editing program. Deciding if the color is killing the image or not. Don't be afraid of the rain, fog, or low light ... these can be your friends, not your enemy.
Assignment: Take a good potential "street" image that has some of the problems mentioned in the lesson (harsh unattractive light, too much clutter, etc.) and convert it to black and white to make a dynamite image. Tell us what changes you made and under what circumstances the image was taken.
Lesson 7: Breaking the Ice
Meeting and photographing that stranger on the street; tips on how to "get acquainted" and "make new friends". Model releases: When they matter, and who and what needs a model release.
Assignment: Choose one of the following challenges: a good strong street scene with two or more people interacting with each other; or One, two or more people reacting to their circumstance or environment.
Lesson 8: Go With the Flow
Sequencing is the secret to success!! Learn how to fire through a series at a rapid pace, capturing that one sterling image that is nestled in a series of images. Studying the difference between a premeditated series and being able to just point and shoot as rapidly and as fast as your camera will let you, and getting a great result.
Assignment: Shoot fast through a sequence. Think about it ahead of time. Choose three images from this sequence to submit, and pick your "best" shot!
Note: All assignments also include a favorite "Grabber Shot" to share!
Review: Voting on Best Work
| | |
| --- | --- |
| © Susan and Neil Silverman | © Susan and Neil Silverman |
Requirements
Digital or film-based camera (point-and-shoot or SLR).
Working knowledge and comfort with your camera's functions.
Excitement, energy, and a desire to stretch yourself beyond your own ordinary boundaries.
FAQ
What skills are required for this class?
Although this course is open to all levels of photographers, it is mainly designed for intermediate or serious hobbyist photographers. All you really need is a knowledge of the basic functions of your camera, as well as a basic understanding of photographic terminology (i.e. aperture, shutter speed, etc.).
Is my point-and-shoot camera OK for this course, or do I need an expensive high-end camera?
A basic camera will work. Ideally, you would want to be able to control your aperture and shutter speed.
Do I need anything else?
Excitement and Energy and a desire to "capture life" around you.
Will we do much Photoshop in this course?
We will discuss some minor aspects of Photoshop, but this is not a Photoshop course. Some minor editing may come into play.
What if I am shy and somewhat uncomfortable in photographing people ... but, at the same time, love the images that are taken in typical street photography?
This course is designed to help you gain confidence in your photography skills and to help you to get out "in the street". We will talk about techniques for approaching people and increasing your comfort level in photographing strangers.
| | |
| --- | --- |
| © Susan and Neil Silverman | © Susan and Neil Silverman |
Do I have to be online at any specific time?
No, you do not need to be online at any specific time. The lessons are sent to your email and you are also provided the Campus Square - where you interact with your classmates and instructor. This is also where you upload your photos to be critiqued by your instructor. The instructors are very punctual and respond quickly.
Will I have access to the instructor to ask questions during the photo course?
Absolutely! Students can ask questions in the special Q&A forum set up in the course's Campus Square, or can ask the instructor via email.
Do you offer a money back guarantee?
Yes. We are confident that you will fully enjoy our courses. All the same, for our 8-week classes, we offer a 100% money-back guarantee before the Wednesday that Lesson #3 is sent out. If for any reason, you are not satisfied and let us know that you would like to withdraw before the Wednesday that Lesson #3 is sent, you will be promptly refunded.
For our 4-week courses, we offer a 100% money back guarantee before the Wednesday that Lesson #2 is sent out from BetterPhoto. If for any reason you are not satisfied and you let the ordering department know that you would like to withdraw before the Wednesday that Lesson #2 is sent, you will be refunded within 7 days. After the second lesson has been sent out, no refunds will be given.
Still have questions about this course?
Ask Us
Take the Next Step..
You can Get Started Today! The price is
$396.00
USD. Do this to start the class right away.
Add to Cart
today to get going in the class.
Add to Wishlist
---
Satisfaction Guaranteed!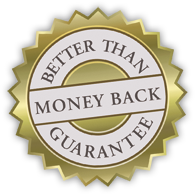 Better Than Money Back Guarantee
We Guarantee our courses.
100%, No Risk, No Hassle.
See you in class!