Get pro feedback on your photos in...
Photoshop: Advanced Creative Techniques
Become a better photographer today!
Expand your creativity beyond your expectations with these advanced Photoshop techniques. In this 8-week online photography course, master photographer and author Jim Zuckerman will show you how to do advanced Photoshop techniques. Learn how to cut and paste the person or animal into a new environment. Learn how to place the moon, fireworks, or lightning into a night sky, how to create a duotone, use special brushes for simulating a painting, and more.
Key Features
Lighting Effects
Placing Objects in a Night Sky
Wow Brushes
Duotone Images
Defining Patterns
Mirror Images
Cutting Around Trees
Creative Rotation
Open to students with a basic familiarity with Photoshop.
Broadens your skill with Photoshop.
Place fireworks or a moon in a twilight or night sky.
Create paintings from your photos.
$396.00 USD
What You Get
Benefits:
You get direct feedback on your photos from world-acclaimed, professional photographers. You can learn photography in this way from anywhere in the world.

Learn at your pace, with structure.

Be guided by a real pro instructor.

Get your photos critiqued every week.

Join students from around the world.

Go far beyond any book or DVD.

Make great pictures, again and again!
Instructor
Jim Zuckerman
Few people are able to spend most of their time pursuing their passion in life. I'm one of them, and I feel blessed to have had a love affair with photography since I began taking pictures.
In 1970, I decided to abort my intended career as a doctor in favor of photography and have never regretted it. Photography has enriched my life more than I can tell you. My career has taken me to over 60 countries, and I've seen and photographed wondrous things.

I specialize in wildlife and nature, international travel, and digital effects. In addition, I also shoot nudes, photo- and electron microscopy, children, and other subjects that stimulate my visual or emotional sensibilities.
For 25 years, I shot a medium format camera, specifically the Mamiya RZ 67, for its superior quality. When I would lecture, I'd project the large, glass mounted transparencies, and it was really an incredible experience to see the brilliant color saturation and resolution of these slides. However, I went digital in 2004 because the technology finally equaled or surpassed medium format. I now shoot the Canon 1Ds Mark II digital camera with a variety of lenses.
I am the author of 12 books on photography. My work is sold in 30 countries around the world, and my images have appeared on scores of magazine and book covers, calendars, posters, national ads, trade ads, brochures, and corporate promotions.
For many years I've led photography tours to exotic places. These include Papua New Guinea, Thailand, Burma, Greece, The Czech Republic and Slovakia, Spain, Morocco, and Peru.
Sample Photos by the Instructor
| | |
| --- | --- |
| © Jim Zuckerman | © Jim Zuckerman |
Examples of Student Photos
View photos by previous students. You can make pictures like this too!


| | |
| --- | --- |
| © Hasmik Hatamian | © Hasmik Hatamian |
Course Outline
Lesson 1: Lighting Effects
Learn four different ways of adding light to a photo.
Assignment: Submit images with any of these lighting techniques you like. Let me know what you wanted to achieve and whether or not you feel you were successful.
Lesson 2: Placing Objects in a Night Sky
The moon, fireworks, lightning.
Assignment: Submit photos showing any of the techniques described in the lesson. Make sure that you size the various elements so they look appropriate in the final composite.
Lesson 3: Painting Your Photos Within Photoshop
There is a unique way to add brush strokes to your photos within Photoshop. You can convert any of your photographs into paintings just like you were using oils or acrylics on canvas.
Assignment: Use any of the Wow brushes and upload 2 to 4 painterly images. It would be nice to include both the before and aftershots so the class can appreciate what you started with.
Lesson 4: Duotone Images
Duo, Tri, Quad, and High Contrast.
Assignment: Upload four images showing one duotone, one tritone, one quadtone, and one high contrast duotone. Label each photo as to what you did.
Lesson 5: Defining Patterns
Using the define pattern technique.
Assignment: Submit photos showing variations of the define pattern technique. Remember that the pattern can come from any photo to be used in any other photo.
Lesson 6: Mirror Images
Using mirror image techniques.
Assignment: Upload images using any of the variations explained in the lesson. Make sure that when the various segments are joined, there is no telltale line showing between them.
Lesson 7: Changing Shapes or Angles
A unique way in Photoshop lets you change the shape of a subject, or its original angle, and make it look different from the original. This can offer you some very creative possibilities.
Assignment: Upload examples showing how you have manipulated a subject within an image where you changed the shape or angle of it. Include the before and after photos. You can use any images from your photo library.
Lesson 8: Exploring Opacity
In Photoshop, there are several ways of using the idea of translucency - although it's called 'opacity'. Unlike working with film, digital technology offers a lot more control. When combing images, you can vary how the two pictures blend together by varying the opacity of the floating layer.
Assignment: Upload photos showing unique images showing how you've used opacity. The components that you put together can be images you've taken in the past or specifically for this course.
Review: Voting on Best Work
| | |
| --- | --- |
| © Jim Zuckerman | © Jim Zuckerman |
Requirements
Photoshop CS or later, or Elements
A PC or Mac with plenty of RAM (at least 1Gb RAM is essential), and a fast processor (Pentium 4, 2Ghz+ CPU or Dual Core) is recommended.
We cater to users of Windows XP, Vista. and Mac OSX.
FAQ
How much Photoshop experience do I have to have to take this course?
You should have a familiarity with the tools and some working knowledge of layers. You do not have to be an expert in Photoshop.
Does it matter how many megapixels my digital camera is?
No, not at all.
Does it matter which version of Photoshop I have?
You should have at least Photoshop 7 - but Elements will work just fine too.
| | |
| --- | --- |
| © Jim Zuckerman | © Jim Zuckerman |
Do I have to be online at any specific time?
No, you do not need to be online at any specific time. The lessons are sent to your email and you are also provided the Campus Square - where you interact with your classmates and instructor. This is also where you upload your photos to be critiqued by your instructor. The instructors are very punctual and respond quickly.
Will I have access to the instructor to ask questions during the photo course?
Absolutely! Students can ask questions in the special Q&A forum set up in the course's Campus Square, or can ask the instructor via email.
Do you offer a money back guarantee?
Yes. We are confident that you will fully enjoy our courses. All the same, for our 8-week classes, we offer a 100% money-back guarantee before the Wednesday that Lesson #3 is sent out. If for any reason, you are not satisfied and let us know that you would like to withdraw before the Wednesday that Lesson #3 is sent, you will be promptly refunded.
For our 4-week courses, we offer a 100% money back guarantee before the Wednesday that Lesson #2 is sent out from BetterPhoto. If for any reason you are not satisfied and you let the ordering department know that you would like to withdraw before the Wednesday that Lesson #2 is sent, you will be refunded within 7 days. After the second lesson has been sent out, no refunds will be given.
Still have questions about this course?
Ask Us
Take the Next Step..
You can Get Started Today! The price is
$396.00
USD. Do this to start the class right away.
Add to Cart
today to get going in the class.
Add to Wishlist
---
Satisfaction Guaranteed!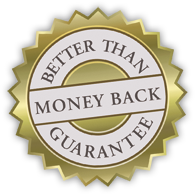 Better Than Money Back Guarantee
We Guarantee our courses.
100%, No Risk, No Hassle.
See you in class!