Get pro feedback on your photos in...
Photoshop Toolbox III: Bridge, Raw and More
Become a better photographer today!
Learn the important lessons for processing Raw files, using the file browser, and creating special effects. Photoshop is an essential image-editing tool for digital and film photographers alike. In this Toolbox course by professional photographer and digital-darkroom specialist Lewis Kemper, learn how to get the most out of your Adobe Photoshop software!
Key Features
File Browser (CS) & The Bridge (CS2, CS3, CS4)
Camera Raw
Image Processor
Motion and Perspective: create the illusion of motion, learn the Transform Tool
Creating Weather – learn how to make Snow/Rain and Stars
Gradient Editor – Creating Rainbows
Photo Filters Plus –using Photo Filters and Blend Modes for Filters and Tinting
Type – make a business card
Master the The Bridge/File Browser
Process raw files
Create special effects
$396.00 USD
What You Get
Benefits:
You get direct feedback on your photos from world-acclaimed, professional photographers. You can learn photography in this way from anywhere in the world.

Learn at your pace, with structure.

Be guided by a real pro instructor.

Get your photos critiqued every week.

Join students from around the world.

Go far beyond any book or DVD.

Make great pictures, again and again!
Instructor
Lewis Kemper
Lewis Kemper specializes in nature and wildlife photography, and has taught over 100 workshops and classes on landscape photography and/or the digital darkroom.
He is a contributing editor to Outdoor Photographer and PC Photo magazines.
His work is represented worldwide by Getty Images, Index Stock Imagery, Stock Connection, AFLO Japan and DRK Photo. Lewis's computer-enhanced images have been used in advertisements, cards, bookmarks and calendars. He is the photographer of Ancient Ancestors of the Southwest, published in 1996.
He also runs a custom digital printing service to create fine art prints for photographers.
Lewis has been honored to be included into Canon's Explorers of Light program, which recognizes 78 of the country's most influential photographers.
Sample Photos by the Instructor
| | |
| --- | --- |
| © Lewis Kemper | © Lewis Kemper |
Examples of Student Photos
View photos by previous students. You can make pictures like this too!


| | |
| --- | --- |
| © Karen A. Beri | © Karen A. Beri |
Course Outline
Lesson 1: Bridge
Learn all the features of the Bridge.
Assignment: Create a browser layout and a template.
Lesson 2: Bridge/Camera Raw
Shooting digitally is becoming more and more common. Learn how to process your RAW files to their fullest and gain control of one of digital photography's greatest assets - the RAW file. Also learn how to integrate the Bridge and Camera Raw to enhance your workflow.
Assignment: Practice with Camera Raw files.
Lesson 3: Image Processor
Receive and learn to use a Script that can save you hours when working with your digital files. Created by Russell Brown of Adobe, Image Processor will process your RAW and jpeg images, and allow you to resize and reformat entire collections with ease.
Assignment: Slide show and processed images.
Lesson 4: Motion and Perspective
Learn to create the illusion of motion to add drama to otherwise static images. And learn the Transform Tool for correcting or distorting perspective.
Assignment: Use Blur and Transform.
Lesson 5: Creating Weather
Learn how to make snow/rain and stars.
Assignment: Use stars and snow/rain.
Lesson 6: Gradient Editor
Create custom gradients and learn how to creating rainbows.
Assignment: Creating rainbow images.
Lesson 7: Photo Filters Plus
Learn to use photo filters and blend modes for filters and tinting.
Assignment: Working with photo filters.
Lesson 8: Type Tool
Master the Type Tool and make a business card.
Assignment: Make a business card.
Review: Voting on Best Work

| | |
| --- | --- |
| © Lewis Kemper | © Lewis Kemper |
Requirements
Photoshop CS2, CS3 or CS4 (no Elements). Please Note: Lessons are supplemented by the instructor with videos on CS4 techniques.
A Mac or Windows-based computer
A digital or film-based camera
Completion of Exposure & Color Correction Toolbox course suggested, but not required
FAQ
Is this course intended only for digital photographers or can photographers who use regular, film-based cameras participate as well?
This course is open to any photographer who wants to learn how to use this digital image-editing software.
What version of Photoshop® is required?
You will need a full version of Photoshop® (no Elements): CS2, CS3, or CS4. But a note on CS4: Lessons are supplemented by the instructor with videos on CS4 techniques.
What Photoshop skills should I know for this course?
Since this is
not
an introductory class, you should be somewhat familiar with the program. Actually if you can create adjustment layers, layer masks and know what the tools on the tool bar are, you should do fine. I am only concentrating on teaching you the best methods for dealing with exposure and color correction. We are not going to cover the tools for cloning, sizing, etc. This class is designed for the person who has been using Photoshop for the digital darkroom and want to expand their knowledge so that they will be become masters of advanced techniques. So if you want to harness the real power of Photoshop®, then this class is for you!
Are there any other requirements? Do I need particular computer equipment, for example?
No. All you need is Internet access (which you have if you are reading this on the Web). Whether you use Mac, Windows XP or another operating system, you will be fine.
| | |
| --- | --- |
| © Lewis Kemper | © Lewis Kemper |
Do I have to be online at any specific time?
No, you do not need to be online at any specific time. The lessons are sent to your email and you are also provided the Campus Square - where you interact with your classmates and instructor. This is also where you upload your photos to be critiqued by your instructor. The instructors are very punctual and respond quickly.
Will I have access to the instructor to ask questions during the photo course?
Absolutely! Students can ask questions in the special Q&A forum set up in the course's Campus Square, or can ask the instructor via email.
Do you offer a money back guarantee?
Yes. We are confident that you will fully enjoy our courses. All the same, for our 8-week classes, we offer a 100% money-back guarantee before the Wednesday that Lesson #3 is sent out. If for any reason, you are not satisfied and let us know that you would like to withdraw before the Wednesday that Lesson #3 is sent, you will be promptly refunded.
For our 4-week courses, we offer a 100% money back guarantee before the Wednesday that Lesson #2 is sent out from BetterPhoto. If for any reason you are not satisfied and you let the ordering department know that you would like to withdraw before the Wednesday that Lesson #2 is sent, you will be refunded within 7 days. After the second lesson has been sent out, no refunds will be given.
Still have questions about this course?
Ask Us
Take the Next Step..
You can Get Started Today! The price is
$396.00
USD. Do this to start the class right away.
Add to Cart
today to get going in the class.
Add to Wishlist
---
Satisfaction Guaranteed!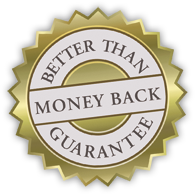 Better Than Money Back Guarantee
We Guarantee our courses.
100%, No Risk, No Hassle.
See you in class!