Get pro feedback on your photos in...
Nature and Landscape Photography: Composition
Become a better photographer today!
Develop your own unique way of seeing to express ultimate beauty and meaning in your photographs. In this exciting 8-week online course, professional photographer Jennifer Wu will show you how to arrange the subject of an image to create photos that have interest, balance and drama. Make inspiring images of the great outdoors in any season - spring, summer, fall, or winter. If you love photographing mountains, trees, inspiring sunrises and glorious sunsets - as you take in the fresh air in a National Park or other nature location, this is the class for you!
Key Features
Composition Guidelines
Techniques for Composition
The Thing Itself
The Detail
The Frame
Time
Vantage Point
Expanding Vision
Serious hobbyist to advanced/professional.
Find out what makes a great photograph.
Learn how to create dynamic and powerful images.
Discover how to move beyond ordinary compositions.
NOTE: Jennifer will be away from August 25-September 4th. To ensure the usual quality course experience, the class will be extended an extra week for questions and critiques.
$396.00 USD
What You Get
Benefits:
You get direct feedback on your photos from world-acclaimed, professional photographers. You can learn photography in this way from anywhere in the world.

Learn at your pace, with structure.

Be guided by a real pro instructor.

Get your photos critiqued every week.

Join students from around the world.

Go far beyond any book or DVD.

Make great pictures, again and again!
Instructor
Jennifer L. Wu
Jennifer Wu, a professional photographer for over 15 years, is best known for her nature and landscape photography. Before focusing on the nature's elusive beauty, she specialized in journalism and portrait photography, publishing hundreds of images in newspapers, including The Sacramento Bee.
Her images, featured in magazines and books, have won dozens of awards. Canon uses her spectacular sky photographs in their professional camera brochures. She exhibits her images at numerous nationally recognized galleries.
Jennifer attended CSU, Sacramento where she received a BA in Photography. She offers classes at Betterphoto.com and teaches photography at California State University, Sacramento, Aspen Photo Workshops, Afilm International Workshops (Barcelona, Spain), Lepp Institute, Canon U.S.A., and the Sierra Club. www.jenniferwu.com
Sample Photos by the Instructor
| | |
| --- | --- |
| © Jennifer Wu | © Jennifer Wu |
Examples of Student Photos
View photos by previous students. You can make pictures like this too!


| | |
| --- | --- |
| © Philippe Remels | © Philippe Remels |
Course Outline
Lesson 1: Composition Guidelines
You will learn compositional guidelines to help you take better photographs. Learn subject placement and the rule of thirds; where to place the horizon in the image; when to fill the frame and when not to; the elimination of dead space in your images; how to check backgrounds for clutter or distractions; and the use of repeating elements such as waves, lines, or flowers to create more drama. You will also learn the use of the "S" curve, when to photograph an image as a vertical and/or a horizontal image, and to check the edges of the frame.
Assignment: Repeating patterns and bending the Rule of Thirds.
Lesson 2: Techniques for Composition
Why do some landscapes look great while others lack interest? Learn how to look at an image and see what works and what does not. Discover how to simplify composition for stronger impact and the techniques to create these images. This includes the use of wide angle lenses to create impact with the near far effect by having a close foreground and distant background by the use of hyper-focal distance. In addition, the lesson covers the use of telephoto lenses and f-stop choices for creating blurry foregrounds and having just the subject in focus to draw attention to it as well as how to photograph motion.
Assignment: Fun with reflectors and creative use of lenses.
Lesson 3: The Thing Itself
The subject that is photographed will look different as a flat image than it does in reality. We don't see all the other distracting things surrounding the Thing Itself, thus our vision of the subject when photographed is a simpler version than reality, conveys a permanence that will not always remain so, and is a clearer representation of the subject than if we were standing there in person looking at it. Learn how to deal with the subject, whether that is a mountain goat, wildflowers, or a sea scape and convey a vision of the subject by the placement of it in the image.
Assignment: Attention-getting subjects.
Lesson 4: The Detail
What we choose to include in the photograph by the way of The Detail tells us a story about the subject without revealing the larger picture of what is going on. By making a conscious effort to seek out details, such as pealing bark on a eucalyptus tree, frost on a flower petal, or furry feathers on the ground, we hint at the the size of a tree, time of year, or the age of a bird. In this lesson we learn how to tell a story with just The Detail.
Assignment: Working the details.
Lesson 5: The Frame
Our most important focus in creating a photograph is deciding what to include and what to eliminate in order to make the image. The Frame is the edge of the photograph and holds what is included up to that edge. It defines the content of the photograph. The Frame does not exist until we create it and that is how come it is important to look around the subject and freely move the camera around, when it is not on a tripod, to find the best vantage point. In this lesson we will explore: using the edges to cut off part of a subject for more impact while still letting the viewer know what it is, using the frame to capture two or more subjects to isolate them and create a sense of importance on one, creative use of wide angle or telephoto lens, creating silolettes and using the edge of the frame to create stronger compositions.
Assignment: Creating the frame.
Lesson 6: Time
By focusing on isolating a particular segment of Time we can imply the past, such as seeing the many layers of rock in the Grand Canyon, or into the suggested future with just a bud of a flower knowing it will soon be blooming. Time can tell us the season or the weather without including a large grand image of a location. Blurry leaves created by the wind suggests time as does a long exposure on water with the soft wispy look of the waterfall. In this lesson we explore how to compose Time in an image.
Assignment: Expressions of time.
Lesson 7: Vantage Point
When a subject, such as a mountain or tree, stays were it is then we must move around the subject to find the best way to convey it. By moving the camera to be above or below the subject or moving in closer or farther away will create a viewpoint that is not normally seen. This will place an emphasis on a subject and can make it appear larger or smaller than life and thus place importance where we want it to be. Learn to create compositions that best convey the subject by use of depth of field, camera angle, and lens choice to create emphasis and meaning.
Assignment: Using vantage point.
Lesson 8: Expanding Vision
When we find a way of taking photographs that works, it is easy to keep repeating that same style of photography. We can start to take images that are repetitive. Expand your vision by developing new ways of seeing. When you think an image is complete, recompose and ask yourself how else can I see this subject? How can I make this image different from how I am seeing it right now? In this lesson we will review compositional guidelines and then discus how to alter them to have it work. Then you will move beyond the ordinary to find your unique point of view.
Assignment: Developing a theme.
Review: Voting on Best Work

| | |
| --- | --- |
| © Jennifer Wu | © Jennifer Wu |
Requirements
Digital or film-based camera.
Know how to use shutter speeds and aperture.
Wide-angle and telephoto lenses are helpful.
FAQ
What do I need to know about using my camera?
It is recommended that you know the basic camera functions, such as setting f-stops and shutter speeds. In this course, you will learn some photography techniques that are helpful for creating better images specifically for nature photography.
Do I need a tripod?
A tripod is recommended but not necessary.
Can I ask you about camera functions and composition during the course?
Yes, of course! I will be happy to answer any questions.
Is black and white okay to submit?
Yes. The examples are mainly in color; however, composition applies to color or black and white.
| | |
| --- | --- |
| © Jennifer Wu | © Jennifer Wu |
Do I have to be online at any specific time?
No, you do not need to be online at any specific time. The lessons are sent to your email and you are also provided the Campus Square - where you interact with your classmates and instructor. This is also where you upload your photos to be critiqued by your instructor. The instructors are very punctual and respond quickly.
Will I have access to the instructor to ask questions during the photo course?
Absolutely! Students can ask questions in the special Q&A forum set up in the course's Campus Square, or can ask the instructor via email.
Do you offer a money back guarantee?
Yes. We are confident that you will fully enjoy our courses. All the same, for our 8-week classes, we offer a 100% money-back guarantee before the Wednesday that Lesson #3 is sent out. If for any reason, you are not satisfied and let us know that you would like to withdraw before the Wednesday that Lesson #3 is sent, you will be promptly refunded.
For our 4-week courses, we offer a 100% money back guarantee before the Wednesday that Lesson #2 is sent out from BetterPhoto. If for any reason you are not satisfied and you let the ordering department know that you would like to withdraw before the Wednesday that Lesson #2 is sent, you will be refunded within 7 days. After the second lesson has been sent out, no refunds will be given.
Still have questions about this course?
Ask Us
Take the Next Step..
You can Get Started Today! The price is
$396.00
USD. Do this to start the class right away.
Add to Cart
today to get going in the class.
Add to Wishlist
---
Satisfaction Guaranteed!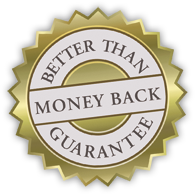 Better Than Money Back Guarantee
We Guarantee our courses.
100%, No Risk, No Hassle.
See you in class!