Get pro feedback on your photos in...
Leveraging Layers: Photoshop's Most Powerful Tool
Become a better photographer today!
Become a master of Layers to create amazing results in Photoshop. Whether you only use Photoshop layers in a cursory way or you don't even use them at all, author and digital imaging specialist Richard Lynch will lead you through an exploration of layers, the layers palette and all layer functions.
Key Features
The World of Image Layer
Layer Management
True Value of Layers: Object and Image Area Isolation
Masking: Enhanced Area Isolation
Exploring Layer Modes
Advanced Blending Modes
Breaking Out Into Components
Making a Layered Collage

Earn your "bachelor's" through "doctorate" by harnessing the power of Photoshop's most powerful tool.
Discover all of the powerful image-processing capabilities that layers have to offer and apply these in practical, hands-on situations.
Get custom tools to create processing scenarios that let you make "impossible" corrections that will help you improve any image.
$396.00 USD
What You Get
Benefits:
You get direct feedback on your photos from world-acclaimed, professional photographers. You can learn photography in this way from anywhere in the world.

Learn at your pace, with structure.

Be guided by a real pro instructor.

Get your photos critiqued every week.

Join students from around the world.

Go far beyond any book or DVD.

Make great pictures, again and again!
Instructor
Richard Lynch
Richard Lynch has written 9 books on Photoshop and image editing. His expertise was born following interests in photography and design, honed as the editor and designer of a photography book publishing house and perfected by working with his own images. His photographic techniques and Photoshop work are steeped in darkroom tradition and photographic theory. He has spent more than 20 years adapting the darkroom to solid digital techniques, and is confident that he can make any image more than it was when it was shot using the digital darkroom.
American born and a US resident, Richard currently lives in Romania where he runs photo tours. He teaches courses for digital photographers and hobbyists in photography and Photoshop online and in the classroom. His articles have been in a variety of publications online and in print, including Popular Photography, PCPhoto, Advanced Photoshop, Digital Photography Techniques, and Photo Techniques. His books tend to fall outside of the series typical series algorithm. His latest book, The Adobe Photoshop Layers Book (http://aps8.com/taplbcs4.html), was the first and only book devoted specifically to Photoshop layers when it first came out in 2007. A completely new edition of the layers book was released for 2012.
In his 'spare' time, Richard experiments with both modern and vintage equipment (like manual-focus lenses, extension tubes, modifications), and devises new and better schemes for image editing (often in the shower). His creative prose has been published in a variety of literary magazines and online. A culinary background and interest in malt beverages led him to competitive beer brewing, and has won awards for his brews in national competitions in the US. Richard enjoys target shooting, a skill not unlike photography, and has a strong knowledge of pellet guns and rifle optics born of his interest in camera lenses and plinking little plastic army guys. He lives to follow his interest, sneak in a little fun, and is in possession of more camera and computer equipment than anyone realistically needs – but he can justify all of it.
See his website: photoshopcs.com
Sample Photos by the Instructor
| | |
| --- | --- |
| © Richard Lynch | © Richard Lynch |
Examples of Student Photos
View photos by previous students. You can make pictures like this too!


| | |
| --- | --- |
| © Judith F. Stone | © Judith F. Stone |
Course Outline
Lesson 1: The World of Image Layers
Understanding how to work with layers starts with understanding some basics about what layers are, what their capabilities are, what functions are in the layers palette, and how to locate all that you need to apply basic layer power. Assignment: Scour your image libraries for images that you may want to work on throughout the course. I will review these images and select those I think will best suit the purpose of the class.
Lesson 2: Layer Management
Before you really become enamored with layers and the flexibility that they offer, you need to know their practical application - and then how to use them most effectively. Effectively managing layers and layer content will help keep your corrections on track, will allow you the flexibility to step back in corrections, and will also keep your images from bulking up to ridiculous size unnecessarily. Then we'll look briefly at layer types, such as type and adjustment layers. Assignment: Testing the process: layer creationg, grouping and combining features by doing an exercise described in this assignment. Review images the instructor has selected for use in this class!
Lesson 3: True Value of Layers: Object and Image Area Isolation
Layers enhance your freedom to correct image areas by isolating areas completely from the rest of the image. Once areas are isolated, you can make adjustments, and then fine-tune adjustments in ways that are impossible with simple selective change. We'll look at using layers to isolate image areas and objects using copy and paste, and applying a simple layered effect using layer styles and manual effects. We'll also look at blending layers using Opacity. Assignment: Choose one or more of your images that we've discussed and test out selective enhancements using layers in this lesson. You don't have to do everything from this lesson to every image, but you should make an attempt to try out everything.
Lesson 4: Masking: Enhanced Area Isolation
Even more advanced realms of isolating image areas exist in the form of masking. Masking is making adjustment to the visible image without actually removing image areas; areas are hidden in the image. We'll look at masking as it applies to layer transparency, layer clipping, Adjustment layers, and proper layer masks. Elements users will be provided custom-made Hidden Power tools to allow certain functionality. Assignment: Looking over the corrections lists you have created for your images, it is time to step back and look at how the techniques we have seen with layers can apply to your images and working with them in an orderly fashion.
Lesson 5: Exploring Layer Modes
Not all layer modes are really useful for every-day correction, but some are and they are very powerful tools. We'll look at ways that you can use layer modes every day for image enhancements and improvements. Making Calculations can also be explored. Assignment: Choose an image, test out enhancements discussed in the lesson for adjusting color separately from tone and applying manual sharpening. Submit a copy of the before and after results for the adjustments and a screen shot of the layers you made to achieve the effects.
Lesson 6: Advanced Blending Modes
Photoshop has several advanced blending modes that allow users to blend layers based on components/channels, qualities in the current layer, and qualities in layers below the current layer. This is mostly encompassed by Blend If and component targeting. Photoshop Elements does not have these features, but custom tools will be provided for Elements users so they can affect similar changes. Assignment: Choose an image, test out enhancements discussed in the lesson, and submit a copy of the adjustment (before and after) and a screen shot of the layers you made to achieve the effect.
Lesson 7: Breaking Out Into Components
We will look at ways to leverage the power of layers to separate out image areas by tone or color. These powerful methods of separating images into components can lead to a plethora of advantages in creating layer-based masks based on specific image qualities, and can open the door to a world of creativity in manipulating tone, color, shape and composition. Custom tools will be provided for users to create involved image scenarios. Assignment: Choose one of your images and go through the process of separating out color components and then re-color the image using filtering as described. Upload a screen shot of your final result showing the separated components and filter layer placement.
Lesson 8: Making a Layered Collage
This lesson will be an exercise in creativity and breaking out all the tools that you have encountered in the course to produce one final fun collage work. The emphasis will be on considering the idea of collage, and then how creative students can be in implementing changes and additions to their images using the power of layers. You can use images you have set aside for use in the class. Assignment: Create a collage using your own images and techniques that show your layers panache. Upload the images you used for the assignment along with the layers screenshot of the final result, and the result itself. Put the emphasis on fun!
Review: Voting on Best Work
| | |
| --- | --- |
| © Richard Lynch | © Richard Lynch |
Requirements
Adobe Photoshop Elements or Adobe Photoshop. The instructor prefers later versions, though any version (after Photoshop 3!) is acceptable (suggested: Elements 3, 4, 5, 6 or Photoshop 7, CS, CS2, or CS3 on Mac or PC).
A good understanding of your computer and mouse, and experience with Photoshop or Photoshop Elements tools and functions. Richard's earlier courses (or equivalent) are recommended (Photoshop 101, Correct and Enhance Your Images, From Monitor to Print). Please check with the instructor if you have questions.
A cache of images that you have already shot and archived that you will be able practice image editing on.
Richard's book, The Adobe Photoshop Layers Book, is suggested but not required.
FAQ
I am not even sure what Layers do. Is this course for me?
As long as you have heard of layers and are curious about how you can use them to enhance your images, you should consider this course. We will begin with Layer basics, like finding the Layers palette and describing use of each tool, but we'll ramp up quickly to advanced topics. If you are confident in using your computer, are serious about editing images, and you know you can get more from Photoshop or Elements, then this course can mean a lot to improving your images.
Why do I need to know about using layers? Why are they so powerful?
The answer to that question is covered in depth in the course, but here is a quick overview:
You get ultimate ability to adjust or undo changes you make with almost any tool, even after you make them.
You can use layers to isolate changes based on tone, color, area or any other distinct image quality.
You can harness the power of channels, color modes, masking, blending, compositing and collage all in one place.
By the end of this course there will be no tool that you will use more in Photoshop or Elements than layers.
I use layers all the time, but I'm shaky on more advanced features like Layer Modes and masking. Will this course be too basic or will it cover advanced topics?
It will start with an overview to be sure everyone is up to speed with what layers are, what they do, and how to use them in lessons #1 to #3 and then will move to advanced lessons. Lessons #4 to #8 all cover advanced layer topics, including modes, masking, blending, color and tone separations, and making a collage. If you have a layers question from the most basic to the most advanced, it will be answered here.
I am no expert at image editing. Will this course help me?
While this course will not make you an expert image editor overnight, it will help you understand even the most advanced layer functions, what they are, and how to use them to improve your images. With time, this understanding can be the cornerstone of becoming an image editing expert.
I use Photoshop Elements. Can I take this course?
Yes! While the course is intended mostly for Photoshop users, it is adapted to Elements as well. Beside having written books on Photoshop, the course instructor, Richard Lynch, has written books about Elements 1 & 2, 3 and 4 for Mac and PC, and will include some tools for Elements users taking the course to add custom functions otherwise not available to Elements users.
| | |
| --- | --- |
| © Richard Lynch | © Richard Lynch |
Do I have to be online at any specific time?
No, you do not need to be online at any specific time. The lessons are sent to your email and you are also provided the Campus Square - where you interact with your classmates and instructor. This is also where you upload your photos to be critiqued by your instructor. The instructors are very punctual and respond quickly.
Will I have access to the instructor to ask questions during the photo course?
Absolutely! Students can ask questions in the special Q&A forum set up in the course's Campus Square, or can ask the instructor via email.
Do you offer a money back guarantee?
Yes. We are confident that you will fully enjoy our courses. All the same, for our 8-week classes, we offer a 100% money-back guarantee before the Wednesday that Lesson #3 is sent out. If for any reason, you are not satisfied and let us know that you would like to withdraw before the Wednesday that Lesson #3 is sent, you will be promptly refunded.
For our 4-week courses, we offer a 100% money back guarantee before the Wednesday that Lesson #2 is sent out from BetterPhoto. If for any reason you are not satisfied and you let the ordering department know that you would like to withdraw before the Wednesday that Lesson #2 is sent, you will be refunded within 7 days. After the second lesson has been sent out, no refunds will be given.
Still have questions about this course?
Ask Us
Take the Next Step..
You can Get Started Today! The price is
$396.00
USD. Do this to start the class right away.
Add to Cart
today to get going in the class.
Add to Wishlist
---
Satisfaction Guaranteed!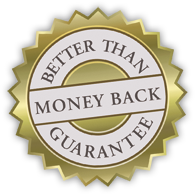 Better Than Money Back Guarantee
We Guarantee our courses.
100%, No Risk, No Hassle.
See you in class!