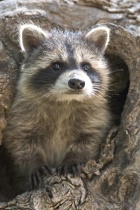 Rocky the Raccoon From Below
© Denise Miotke
All Rights Reserved
Meet Rocky the Raccoon - From Both High and Low Points of View


Rocky the Raccoon From Above
© Jim Miotke
All Rights Reserved

These two images show how different a photo can feel when you shoot it from a high point of view vs. a low point of view.

Note how my version (to the left) makes Rocky look smaller and even a bit passive or shy.

Denise's version makes Rocky look more impressive, energetic, and delightful.

While both are good, I like Denise's version best out of these two.

Close and Also Good
© Jim Miotke
All Rights Reserved
Get Closer to Your Photographic Subject

Baby Raccoon - Far but Good
© Denise H. Miotke
All Rights Reserved

Here's another fun pair that shows the different degree of impact you have by moving in closer.

I always prefer to move in close to my subject. The trick is to define the right subject. In Denise's far version, the subject is Rocky in his log home. So he and his log home make up a combined two-part subject.

My version shows off Rocky without telling as much about his log home.

They both succeed... one just has a different subject than the other.



Sharp Focus is Very Important


Raccoon with Dandelion - Way Too Blurry
© Jim Miotke
All Rights Reserved

Now in this pair of photos, one is clearly better than the other. One is blurry and the other is sharp.

Everybody knows that a sharp photo is better than a blurry one (except when you are purposely trying to use a blur effect, as when you want to make a car look like it's moving fast). Nine times out of ten, a blurry photo makes the people who look at your photo feel unhappy with it. They want to see your subject clearly.

As obvious as this sounds, it is important to point out because sharpness is really hard to acheive when photographing fast moving subjects as in this baby raccoon.

Make sure you hold the camera very steady and, if your camera allows you to change shutter speed, make sure this speed is very high. Denise and I found that we needed shutter speeds of 1/125 or faster to capture Rocky without blur.




Picture of Raccoon on the Rule of Thirds
© Denise Miotke
All Rights Reserved
Rule of Thirds

Baby Raccoon in Hole - Centered
© Denise H. Miotke
All Rights Reserved

The Rule of Thirds version here is not necessarily better than the centered one. Just note how the centered version seems a little funnier, more humorous. The Rule of Thirds version makes everything look more balanced and visually interesting.

To learn more about the Rule of Thirds and photography, visit this page in our Top 10 Beginning Photography Tips.




Looking Right at the Camera- Much Better!
© Jim Miotke
All Rights Reserved
Last Important Point: Looking at the Camera

Baby Raccoon Looking Away
© Jim Miotke
All Rights Reserved

As Denise and I looked though our resulting pictures, one thing became clear: the pictures that had Rocky looking right at us, were much more interesting than the pictures that showed him looking to the right or the left.

Make sure you get good eye contact. This before and after pair shows a definite imporvement. Seeing Rocky the Raccoon looking right into the camera is much more interesting. We just love to see those cute little eyes looking right at us.

I hope these five points help. Denise and I certainly learned a lot by this experience and we hope you, too, can learn from our experiences.