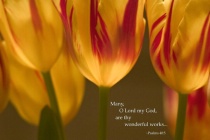 Thy Works
© Jim Miotke
All Rights Reserved

With many image editing programs like Photoshop, you can easily incorporate words to photos and add instant meaning. This is so easy - anyone can do it.

In the old days, if you wanted to combine photographic images with text, you needed special software. After preparing your photos in an editing program like Photoshop, you would need to import each image into a graphic illustration program like Adobe Illustrator. Once imported into this additional (and you guessed it - Expensive) program, you could then add text and make interesting layouts.

Not so anymore. While Illustrator will allow you to do super fancy design layouts, Photoshop (especially the most recent version) now lets you control many aspects of type. For us photographers, Photoshop has more than enough to offer when it comes to text.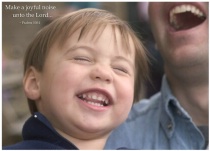 Make a Joyful Noise
© Jim Miotke
All Rights Reserved

For starters, you can create and edit text right on the image instead of having to work in the old (and non-intuitive) dialog box used in previous versions of Photoshop.

The order of events when adding text usually follows this pattern:

Select the Type tool from the Tool palette.

Click on your photo at the place where you would like to insert text.

Start typing.

Move the text if necessary.

Commit the text - in other words, make it official and go back to your regular editing mode. You do this by clicking on the text layer or hitting the Enter key on your numeric pad (hitting the other Enter key will just cause a line break in your text).

The Lord is My Fortress
© Jim Miotke
All Rights Reserved

Once you have selected the Type tool and started to write, you can further refine your text in a number of ways.
You can choose the font face and size that most appeals to you.

You can center or left-align your text.

You can make some text bold and other text underlined.
The possibilities are too many to mention here. Explore the Text and Character palettes to discover the look you like the most. Simply experiment with the options while some or all of your text is highlighted; this will show you exactly how the change is going to affect your text.
Simply highlight the text again and make your desired changes. To edit text after it has been committed, make sure the Type tool is your currently selected tool and click on the text area.

Under His Feathers
© Jim Miotke
All Rights Reserved

After you have typed and edited your text to your heart's content, you can move it. You can move it either before or after you have committed the text changes.

To move it while you are still in the text edit mode, move your cursor away from the text until the cursor changes into the Move tool. Click and drag to reposition your text to where you would like it to be placed. To move it after committing text changes, select the Move tool from the Tool palette and reposition your text.

You can also change the color of your font. Click on the small color patch in the Text Options bar, the Character palette, or the Text dialog box. A font color that contrasts with the background works best - it is easiest for the eye to read. A dark text on a light background is easier on the eye than white text on a dark background.




What's more, those with the most recent version of Photoshop can also warp, bend, and otherwise distort text. This comes in handy when you are trying to create an especially creative look. I used it when designing the cover of my DVD, "Digital Photography Unleashed".

There you have it. Now go to town typing up a storm. Have fun combining words to photos. If you would like to see some examples, visit my new gallery entitled "Inspirational" at www.Miotke.com, where I place biblical and other inspirational quotations on some of my favorite images.


Don't miss these FREE RESOURCES at BetterPhoto.com...