Custom Car Design
© Kerry Drager
All Rights Reserved

A self-assignment is a great way to keep your shooting eye sharp. Exploring a subject or location over a long period of time can help you rediscover your photographic passion, expand your skills, and flex your artistic muscles. When a lack of inspiration or motivation hits, a photo project can get you out and shooting. Plus, photo projects are fun, too! Here are some examples:

- Settings or scenes close to home give you the opportunity to study your results and return for more images. Possible places might be a local zoo, a nearby park, or your own backyard. Perhaps you'd like to make people aware of an environmental issue, or you could take on a historic preservation goal.

- Themes or concepts can be captured anywhere - at home or away. The list of possible subjects is endless, but here are a few to get you started thinking: color (a scene dominated by, say, red or blue), design element (i.e., line, shape, pattern), blurred motion, ornate doors, patterns in nature, window reflections, unusual hats, striking silhouettes or shadows, back alleys, graffiti walls, casual portraits of interesting people, window-light scenes, still lifes, wide-angle perspective, or unique points of view.

Following are three of my ongoing self-assignments:

- I regularly attend outdoor classic car shows in search of details and designs. For examples, visit my Classic Cars and Custom Trucks gallery.




- I'm always attracted to bright and bold color, including orange. In fact, orange is a go-to subject for set-up shots (i.e., using a pumpkin or an orange umbrella as a prop), as well as for found objects. See my Orange gallery.

- When traveling light, I frequently go with one lens for my DSLR. Usually it's a very versatile 24-85mm zoom. But for an ongoing "Back to Basics" assignment, it's just a fixed 50mm lens ... and that's it! The 50mm is very lightweight, very fast (large maximum aperture of f/1.8), very affordable, and extremely sharp ... and surprisingly versatile, although you must "zoom" the old-fashioned way: with your feet :-) There's nothing like limiting yourself to a single focal length to really stretch your vision. Best yet, you'll come up with some nice keepers for your portfolio. Check out my 50mm gallery.

Note: Click on each photo to see the enlarged image, along with the exposure settings.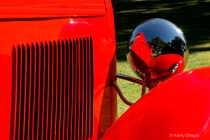 Reflection, Color & Design
© Kerry Drager
All Rights Reserved
More information...
Like these concepts? See Kerry Drager's instructor bio and online course listing, along with his how-to books co-authored with Jim Miotke: The BetterPhoto Guide to Creative Digital Photography. and The BetterPhoto Guide to Photographing Light.





About Author / Instructor / Photographer, Kerry Drager


Kerry Drager is a professional photographer, teacher and writer who is also the co-author of two books: The BetterPhoto Guide to Creative Digital Photography and The BetterPhoto Guide to Photographing Light. He has taught many photography courses (online and in person), seminars and field workshops.

Be sure to check out Kerry's website - www.kerrydrager.com.

Also, he is the author of Scenic Photography 101, the photographer of the photo-essay books The Golden Dream: California from Gold Rush to Statehood and California Desert , a contributor to the books BetterPhoto Basics and Daybreak 2000, and a co-photographer of Portrait of California. In addition, Kerry was profiled in the April 1994 issue of Outdoor Photographer magazine and in Vik Orenstein's 2010 book The Photographer's Market Guide to Building Your Photography Business, and his website was showcased in the January 2003 issue of Shutterbug magazine. Plus, his work has appeared in magazines, Hallmark cards and Sierra Club calendars, and in advertising campaigns for American Express and Sinar Bron Imaging.

Also follow Kerry on Facebook, where he posts photos several times a week that include shooting tips and thoughts.

Kerry lives with his wife, Mary, on California's Central Coast, with their three Newfoundland dogs, four cats, and a mixed terrier.