Window-Light Portrait, with dark shadowed room as background
© Kerry Drager
All Rights Reserved

Just because youíre indoors doesnít mean you canít take advantage of the great outdoors. The light streaming through a window can be a wonderful source of natural light and very flattering for shooting people, pets, still-life scenes, art objects, and close-ups of kitchen utensils, flowers, seashells, feathers, etc.

Window-light photography isnít limited to a make-do-when-itís-raining or a better-than-nothing situation. The great indoors can be the place to be even on a beautiful dayóprovided the subject is right next to a window. But window light isnít all alike. For example:







Window-Light Portrait, with brightly lit room as background
© Kerry Drager
All Rights Reserved


With indirect (or diffused) window light, the sun does not shine directly through the window and, as a result, is softer and more diffused than direct sunlight. You can get indirect light on an overcast day, or on a sunny day when the window is not hit by the direct sun.

With direct window light, the sun shines directly through the window and strikes your subject. Because the light is coming from mostly a single direction, you must take care in dealing with the shadows on the side of the subject thatís away from the window. When used to creative advantage, the contrast can add drama as a light-and-shadow shot, although sometimes you might need to use a reflector or fill flash to brighten up a shadow area.






To get a good handle on the virtues ó and the trials ó of window light, take a window tour of your home or another building with a companion as your model. Do this on a sunny day to catch the wide range of lighting conditions. Place your subject next to every window you can and see how the outdoor light illuminates the window side of the face and also the room-facing (shadow) side.

Note: The accompanying photos were all captured with indirect window light. For the Peacock Feathers and Nautilus Shell, however, a reflector was also used in order to ensure even lighting throughout the subject. To see each photo enlarged, plus the exposure settings, just click on the small image.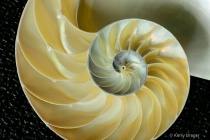 Nautilus SeaShell Design 2
© Kerry Drager
All Rights Reserved
More on Kerry Drager
Like these ideas? Check out his books co-authored with Jim Miotke: The BetterPhoto Guide to Photographing Light and The BetterPhoto Guide to Creative Digital Photography.





About Author / Instructor / Photographer, Kerry Drager


Kerry Drager is a professional photographer, teacher and writer who is also the co-author of two books: The BetterPhoto Guide to Creative Digital Photography and The BetterPhoto Guide to Photographing Light. He has taught many photography courses (online and in person), seminars and field workshops.

Be sure to check out Kerry's website - www.kerrydrager.com.

Also, he is the author of Scenic Photography 101, the photographer of the photo-essay books The Golden Dream: California from Gold Rush to Statehood and California Desert , a contributor to the books BetterPhoto Basics and Daybreak 2000, and a co-photographer of Portrait of California. In addition, Kerry was profiled in the April 1994 issue of Outdoor Photographer magazine and in Vik Orenstein's 2010 book The Photographer's Market Guide to Building Your Photography Business, and his website was showcased in the January 2003 issue of Shutterbug magazine. Plus, his work has appeared in magazines, Hallmark cards and Sierra Club calendars, and in advertising campaigns for American Express and Sinar Bron Imaging.

Also follow Kerry on Facebook, where he posts photos several times a week that include shooting tips and thoughts.

Kerry lives with his wife, Mary, on California's Central Coast, with their three Newfoundland dogs, four cats, and a mixed terrier.