Beach, Colors, Reflections
© Kerry Drager
All Rights Reserved

Many aspiring photographers - and not just beginners, either - work far too quickly. They get their picture and are eager to dash to the next spot. One photo? Really!?! After only a single shot, you havenít even gotten started! Whenever possible, take the thoughtful, more deliberate approach by dropping the ready-aim-fire attitude.

Certainly, not every scene or subject can involve a leisurely approach - such as candids, action, or fast-changing light. Or you may be heading for an appointment, for example, and thereís only time to shoot one image. But when the lightís right, the sceneís inviting, and thereís no need to rush it, slow down and make the most of a photogenic setting.

An example is my accompanying series from a trip to Capitola, California's colorful seaside town. I started with an early-morning big view that shows buildings, beach, and reflections. Next, I went for a tight shot by zooming in on just the colors and patterns. For the third image, I changed my camera position to catch the close-up scene (Pot and Pink Wall).

Hereís a quick tip: Once you begin using a tripod for every stationary subject, your photography will start to improve immediately. Yes, immediately. Using the accessory that photographers love to hate forces you to slow down, analyze your scene, and then carefully design your photo so that you can get it exactly the way you want it.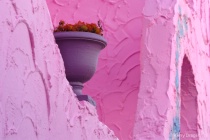 Pink Wall and Colorful Pot
© Kerry Drager
All Rights Reserved
More information:
More information
About Author / Instructor / Photographer, Kerry Drager


Kerry Drager is a professional photographer, teacher and writer who is also the co-author of two books: The BetterPhoto Guide to Creative Digital Photography and The BetterPhoto Guide to Photographing Light. He has taught many photography courses (online and in person), seminars and field workshops.

Be sure to check out Kerry's website - www.kerrydrager.com.

Also, he is the author of Scenic Photography 101, the photographer of the photo-essay books The Golden Dream: California from Gold Rush to Statehood and California Desert , a contributor to the books BetterPhoto Basics and Daybreak 2000, and a co-photographer of Portrait of California. In addition, Kerry was profiled in the April 1994 issue of Outdoor Photographer magazine and in Vik Orenstein's 2010 book The Photographer's Market Guide to Building Your Photography Business, and his website was showcased in the January 2003 issue of Shutterbug magazine. Plus, his work has appeared in magazines, Hallmark cards and Sierra Club calendars, and in advertising campaigns for American Express and Sinar Bron Imaging.

Also follow Kerry on Facebook, where he posts photos several times a week that include shooting tips and thoughts.

Kerry lives with his wife, Mary, on California's Central Coast, with their three Newfoundland dogs, four cats, and a mixed terrier.