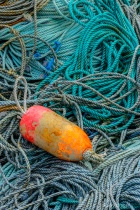 Fishing Ropes & Buoy in Shade
© Kerry Drager
All Rights Reserved

Soft-and-even light can enrich many colorful subjects. Diffused lighting often makes colors more vivid than direct sunlight and is more likely to reveal delicate details as well. Such light offers minimal contrast, so scenes aren't marred by deep shadows and glaring highlights.

Muted light appears under a solid white or gray sky. But open shade is a close "cousin" to overcast light. With a high-in-the-sky sun, shade offers a diffused-light respite - an ideal solution when you wish to shoot portraits or other subjects during a sunny midday.

Look for pleasing, low-contrast light under an overhang, on a covered porch, beneath the cover of a tree, in the shadows alongside a building, or just inside a door. A good process is to catch a subject just inside the edge of direct sunlight, where the shade is still relatively bright.
Notes on the photos...
Fishing Ropes and Buoy: The sun had already risen when I arrived at the bayfront of Newport, Oregon. In the shade, the soft light revealed the details, textures, and colors of this marina scene.
Portrait in Shade: At noon during an historical re-enactment in California's Gold Rush Country, the sun was high in the sky and the light was harsh. With a goal of photographing some of the performers, I used this shooting workflow: First, I found a perfect portrait setting in the shade of an 1800s-era brick building. Next, I waited for a break in the action. Then I asked a willing subject to move a few steps and strike a pose in the pleasing light.
Chairs in Shade: On a bright and sunny day at the coast, I found this collection of chairs in the diffused light of a shaded porch. A tele-zoom let me zero in on the pattern of lines and colors.

Background alert: As you compose a photo with a subject in shade, beware of any glaring hot spots. Distracting sunlight reflections can capture the viewer's eye and draw attention away from your main subject. In each of the accompanying pictures, note that the entire scene (subject, background and surroundings) is in shade.



Notes from the editor...
About Author / Instructor / Photographer, Kerry Drager


Kerry Drager is a professional photographer, teacher and writer who is also the co-author of two books: The BetterPhoto Guide to Creative Digital Photography and The BetterPhoto Guide to Photographing Light. He has taught many photography courses (online and in person), seminars and field workshops.

Be sure to check out Kerry's website - www.kerrydrager.com.

Also, he is the author of Scenic Photography 101, the photographer of the photo-essay books The Golden Dream: California from Gold Rush to Statehood and California Desert , a contributor to the books BetterPhoto Basics and Daybreak 2000, and a co-photographer of Portrait of California. In addition, Kerry was profiled in the April 1994 issue of Outdoor Photographer magazine and in Vik Orenstein's 2010 book The Photographer's Market Guide to Building Your Photography Business, and his website was showcased in the January 2003 issue of Shutterbug magazine. Plus, his work has appeared in magazines, Hallmark cards and Sierra Club calendars, and in advertising campaigns for American Express and Sinar Bron Imaging.

Also follow Kerry on Facebook, where he posts photos several times a week that include shooting tips and thoughts.

Kerry lives with his wife, Mary, on California's Central Coast, with their three Newfoundland dogs, four cats, and a mixed terrier.