Creative Confidence
Webinar Weekend!
A Step-By-Step 2-Day Virtual Workshop...
Learn proven techniques to help you realize your potential and say "Yes!" to your creative dreams!
So many people have been asking me to come to their city, or offer the workshop in an online format.
Learn proven techniques to help you realize your potential and say "Yes!" to your creative dreams!
This is what people in the biz call a "telesummit" or "virtual workshop".
We will be online together, on Live Calls where you can ask questions and interact with me personally! You will see my computer as I present my visual program, and work with PDF printouts to do the exercises.
Bottom line: at the end of the weekend, you'll be a master of creative confidence. By Monday you'll already be forgetting all about second guessing yourself.
I am very excited about offering this workshop as a LIVE online event! The Creative Confidence program is designed for the creative photographer that wants to turn their passion into a business, take your current business to the next level, or simply attract more viewers, visitors and interested people.
Do you worry at times that your insecurities are reality? That your doubts are not just in your head?
Do you ever hear that voice in your head asking: "Am I just wasting my time trying to become a better photographer?"
Want to discover the one thing you most need to do to become better?
Are you afraid that you will look back in five years and realize you hadn't progressed as much as you had hoped or expected to grow?
Do you wonder if someday you'll feel like you've run out of time or... worse yet... out of inspiration, and give up on your dream?
You Have Found The Solution!
In this Virtual Workshop, you'll gain exactly what you need to be the best photographer you can be.
Many more beautiful photos
More fun creating them.
Shut that Inner Voice Up for Good!
You know the voice I'm talking about... it's that inner dialog that always has you second guessing your talent. It's always wondering about your worth, saying things like "Am I truly talented? Am I good enough to become a great photographer?"
Don't run out of time to take the great pictures you want to take in your lifetime.
No longer depend upon friends, family, and supportive online friends, all telling you you're good enough. No longer require external validation OR external criticism to determine how much fun you have with photography.
Never again find the work of fellow photographers intimidating. Learn how to be inspired instead of being intimidated.
Walk away empowered, able to create powerful photos on command
Stop being such a perfectionist that you never reach your potential; never climb to the heights of your greatest potential success as a creative photographer.
Never come home from a vacation with poor, disappointing pictures.
What You Get
In this Virtual Workshop, you will leap light-years ahead as a photographer. You will be given the tools you need to stop your own negative self-talk and self-doubts. No longer allow that voice to hinder your own growth and progress.
You will:
Enjoy a 2-Day Webinar Weekend
Gain inspiration and make a positive change - immediately!
Stop caring about what other people think of you or your photographic abilities.
Unlock your creativity, clarify your direction and get past mental blocks.
Gain confidence in your vision, your photography, and yourself!
Jim personally guarantees the value of this comprehensive program. Dedicated to your success, Jim gives his heart and soul and stands behind these proven methods to becoming a creative producer.
Over the 2-Day weekend, you will gain insights and solutions in these specific core areas:
Say Goodbye to Second Guessing:
No more wondering if you're wasting your time doing photography...
"Am I Good Enough?"
How to know when you've "made it"; How to feel inspired, not intimidated
Forget to Be Unhappy
How to get over the hump; how to get the results you want; don't be shy; forget your fear of failure.
The Quick and Easy Way to Eliminate Negative Self-Talk
Letting go of limiting beliefs; recognizing your great strengths and building Upon empowering beliefs; design your dream life as a photographer.
Stop Making It So Hard:
Discover how to stop pushing yourself, and find the easy way to get yourself out shooting more.
Reject Resistance and Get Out The Door
Overcome perfectionism: 3 steps to becoming a master at self motivation; how to say no to the distractions and other demands on your time.
Reject Your Fear of Rejection and Ridicule
Forever leave behind your fear of failure and embarrassment; how to deal with mistakes and learning lessons.
Down with Self-Doubt and Uncertainty
Forget fretting about results while photographing... and shoot with abandon! Overcoming insecurity and worry; how to know now when you are doing everything right.
Hear the stories and case studies of people who
have completely mastered confidence in
their creative endeavors
What People Are Saying
"The Creative Confidence Webinar was so great! Part way through the assignments, I had my "aha" moment and realized while going through my Personality Profile that I had a behavior that was hindering my personal growth, that I needed, in order to get to the next level of success in my business.

The material was excellent and Jim's honest enthusiasm to help us succeed was infectious and fun! Interacting with the others on the calls was inspiring. Even in just 2 days my confidence has grown more then I ever thought. My only disappointment was when class ended.

Thank you so much Jim and the CC Team! I would recommend your Webinars to my friends and anyone wanting to take the next step to making their dreams/goals a reality!"
- Barbara Gould
"Hi Jim, I had to contact you to tell you how much I enjoyed your Master the Mindset workshop! You are very personable and energetic. You're doing a great service to the BetterPhoto community. Keep up the great work!"
- Ken
Do Not Miss! "Jim was in NY with his Mastery seminar and I attended. He's now on his way to the West Coast and I can only say that any of you who live or can get to any of those sites -- DO NOT MISS THIS EVENT. It's no exaggeration to say that it's life-changing. I even signed up for the three-day version to be held in the autumn. We are so incredibly blessed to have Jim as a mentor. I guarantee you will not be sorry if you attend this event!"
- Nancy de Flon
"I really enjoyed the Mastering the Mindset session in Monterey. I am not one to normally attend a potentially "motivational" workshop. What I got was complete motivation and an honest goal setting session. In such an intimate setting, I really felt compelled and confident to express what I was holding back. My big hold-back was my own self confidence. Jim made me realize that there is no reason to feel that way and I have already embraced the attitude that "yes, I am a photographer!!"
- Mikelin Van Dyck
"Thanks so much for making this wonderful program available. After two days of digestion, I am convinced that I gained lots of insights and will be able to move towards developing habits to beat through my many resistances and help me develop a new creative edge I have been lacking, lately."
- Melissa Gurdus
Jim's Bio
Jim Miotke is the author of the bestselling BetterPhoto guidebook series - Digital Photography, Digital Nature Photography, and Photographing Children, as well as the recent released BetterPhoto Basics and two award-winning DVDs. In 1996, Jim founded BetterPhoto.com, the world-leader in online photographic education now featuring over 80 online photography classes led by famous photographers. Jim reaches over 5 million photographers every year and loves to share what he has learned in an effort to encourage people around the world to say "YES!" to their creative dreams.
Over the years, Jim has spent over 10,000 hours studying the masters of the inner game, the psychology of winning -- as a photographer, businessman, you name it. Learning from the best, Jim has distilled a wealth of knowledge and organized it in a way that will save you 9984 hours of time, and a lot of money!
Jim Has Authored:
When you can't get enough validation from friends, family, clients, or potential clients
Jim's Personal "Better Than Money Back" Guarantee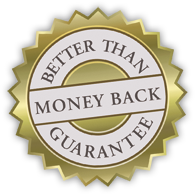 I KNOW you'll get at least $15,000 of value from your time with me. I stand behind the proven methods I have found, that will help you become a totally confident, totally creative photographer!
It's all a question of value. From my perspective, the weekend event is worth at least $15,000 - and that's being conservative.
I invite you to try it out. You have my personal "Better Than Money Back" guarantee: If, after the first day, you don't agree that you'll get at least $15,000 out of the event, you can:
Get your money back AND
Keep the course material AND
Keep any bonus items you receive!
I am THAT confident you're going to love this program and benefit many times over!
- Jim Miotke
FAQ
The following address our most frequently asked questions:
How will this workshop help me be more productive?
Not only will you be clear about your most important goals, purpose, and vision, but also you will be empowered with new tools. The tools and techniques Jim provides will super charge your efficiency and productivity.
Why are you "the serious choice"? Why should I sign up for your event instead of another self-improvement event?
Jim is the #1 expert on personal development techniques, as applied to the creative arts. Combining his extensive knowledge of photography and self-improvement, Jim has designed this program specifically for creative self-improvers - people who have found their passion in being creative and want to become better in the most efficient manner possible.
What's the catch? What's the fine print?
There is no catch. And, as always, we guarantee your satisfaction with our Better-Than-Money-Back guarantee. Jim just wants to share this message and help you grow to your peak potential. It is possible and Jim is committed to helping you reach the level of success that you are committed to achieving.
Can I start preparing NOW?
Yes, after you sign up, Jim will send you a list of recommended reading material, exercises, and pre-workshop assignments. Doing some or all of these assignments will greatly increase the benefits you get out of our intense two-day experience.
Creative Confidence: Say Goodbye to Second Guessing will take you to the next level. Get ready for the transformation you've been hoping for:
Overcome self-doubt, fear, and those insecurity about your abilities.
Learn the strategies that will take your creative endeavors to the next level.
Make sure your years of investing in photography are paying off... starting today!
Discover how to be certain that you're always growing, always progressing
Get closer toward your goals as a photographer.
Start each day energized and in charge of your creativity.
Continue pursuing your dream – with joy, inspiration, confidence, and ultimate creativity.
Skill level is irrelevant! It doesn't matter whether you're a seasoned pro or you're just getting going. It's not about knowledge... it's about MINDSET!
How different would your life feel if you knew your efforts were worth the investment? Have you ever decided to wait instead of submitting an article, book, or photo proposal... putting off your big dream because you did not feel quite ready yet? What would it feel like to achieve that goal, to live your dream?
Invest in yourself and SAY "YES!" to you... today!
Feel more confident today!