PhotoFlash: Issue #2 View archives
Hi there,

In the spirit of the holidays, our December issue brings gifts and good tidings.

We have the next installment of our ongoing series on what it was like to attend a photo workshop in France. As always, we have wonderful photo discussions. And we top this issue with an incredible image - our featured photo which was also the winner of the November Photo Contest.

You may have already seen an announcement of our upcoming Photo-Courses. These 12 week online courses begin in late January and are designed to completely jump-start or revitalize your photographic image making abilities.

However, here are two things that will be new to you:
I goofed and, in the excitement of announcing these new courses, entered an incorrect price for the Beginning Photo-Course. Instead of being $395, it is actually only $195. Those of you who have already signed up will be credited the difference.
In the spirit of the season, Bryan is including his Marketing Workshop - free of charge - along with his Advanced Photo-Course. This means that, in addition to the critiques and assignments on advanced photography (which would cost $895 if you were to take a workshop from Bryan in person), your final four lessons will be on marketing your work and making it sell (usual price: $295). You get a $1190 workshop for the unchanged price of only $395!
Inspired by Bryan, I am also throwing in additional material to the Beginning Photo-Course. In addition to teaching the basics, my course will wrap things up with an introductory primer on digital imaging (including tips on scanning, sharpening, and cloning). This is intended to help you find your way around the techno terms and make the most of the new world of digital imaging.
Space is limited for these Photo-Courses so sign up today! A great gift for yourself or a photographer friend, these courses offer the most effective, least expensive way to make the most of your camera.
http://www.betterphoto.com/workshops.asp
In this issue:
Featured Photo: What Would Bobby Fischer Do?



What Would Bobby Fischer Do?
My son is learning to play chess and I wanted to capture the intensity and concentration he displays during a good match. I decided to try a macro approach to this portrait with my Nikon CP950. I used natural light at F3.5, 1/30 sec.

© Heather McFarland
Featured Article: Attending a Bryan Peterson Workshop: Part Two
Shooting the lavender fields - the central focus of our photo workshop - proved challenging, multi-faceted, rewarding, and all-in-all a perfect excuse to get out in the field, literally and figuratively...
Read more...


Where in the World in Snappy?
Can you guess where this picture was taken? If you think you have a clue, try offering a response.
To learn the correct answer to last month's quiz - and see who came the closest, visit the previous Snappy quiz.
Photo Discussions - NEW This Week

New Photo Discussion 1: Wildflowers

wild flowers
nature

© Steve Thaw

Everybody shoots wildflowers, but not this well. Amount of blur in the background is perfect.
- Doug N.

See Doug's Premium BetterPholio™

Read this discussion online
Respond to this discussion
New Photo Discussion 2: Mask and Blue Hand

Mask and Blue Hand
.

© Bryan Peterson

Bryan, how do you think these great subjects beforehand? This one obviously took some planning. Beautiful, and I've decided these (3) are all digital photos, yes?
- Piper L.

See Piper's Premium BetterPholio™

Response 1:*THE* BRYAN PETERSON????????? WOW... I am at a loss for words... This is a beautifully mysterious shot B. Excellent composition. No question in mind what the subject is, but what else is hidden behind that magic curtain under that mask, may I ask?
- Donna R.

Visit DonnaraePhotography.com - Donna's Deluxe BetterPholio™

Response 2:Bryan, please give us the low-down on these photos. I'm on the edge of my seat.

I would like to thank you, by the way, for writing Understanding Exposure. Your explanations and examples (and beautiful photos) have not only simplified the concepts I struggle to make heads or tails of, but have given me the necessary tools to put that theory into practice with confidence. I am no longer afraid to try something, make a mistake, and try again until I get it right. Thanks for caring about those of us who share your passion.
- Piper L.

See Piper's Premium BetterPholio™

Response 3:P.S. I was re-reading a bit of your book last night and came upon the part where you say, "I was becoming an expert on everyone else's photos...". This was like an Oprah-lightbulb moment for me. I need to start shooting more and reading less! Thanks for relating.
- Piper L.

See Piper's Premium BetterPholio™

Response 4:Thanks so much for your kind comments.

This is actually a single image which was shot on assignment for Kodak in an industrial area near downtown San Francisco. It is a damaged metal corrugated (a big delivery truck, I'm assuming, backed into it and bent the door. I saw it like this and asked my assistant to paint his arm blue (we had already bought numerous props, paint being one of them, in this case body paint). We also had purchased the mask at the same hobby/costume shop and I simply placed the mask in the seam of the door and asked him to 'pull on the metal'; as if to unvail something mysterious. I shot it with a Nikon 7-180 Macro (love this lens!) and of course on tripod! Film choice was Kodak 100 Royal Gold print film since this was one of the films we were shooting advertisements for.
- Bryan P.

Sign up for Bryan's 12 Week Photo-Course

Read this discussion online
Respond to this discussion
New Photo Discussion 3: Ball and Fins

Ball and Fins
.

© Bryan Peterson

Bryan, welcome to betterphoto! You make me want to throw my camera to the wolves... this is just stunning. Can I guess details? If this is film photography (and I'm having trouble deciding that it truly isn't digital), then you've used either Fuji Velvia, or Kodak Portra VC, shaded your lens somehow, and overexposed by a 1/2 stop or so. Am I close, or should I go back to the back to GO->?
- Piper L.

See Piper's Premium BetterPholio™

Response 1:This is another take from an advertising shoot I did for Kodak. We were to explore ways to show the 'slice of life' photos that Kodak ads are famous for, but with the emphasis on images with strong graphics. This was actually taken in my backyard, with a 'model' who donned the flippers and I had him step into the pool while my assistant moved the ball into position. I shot from an overhead position, fromm a small step ladder with a 35-70mm zoom. The film was Kodak Royal Gold 100. I scanned the color negative and tweaked the color ever so slightly and from the digital file, I had a 35mm slide. The shot was also taken at mid-day and you're right about shooting at a half-stop over.

Thanks for your kind comments.
- Bryan P.

Sign up for Bryan's 12 Week Photo-Course

Read this discussion online
Respond to this discussion
New Photo Discussion 4: Pencils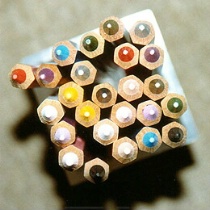 Pencils
Unfortunately I only have the built-in flash on my camera, hence the shadow...

© Tamara Kuzminski

Tamara--here's a free tip: Never start off your contest entry caption with, "Unfortunately..." Be happy with what you shoot/enter, or don't shoot/enter. I mean this in the nicest way. Don't play down your work, dammit! Be proud of your stuff, girl. This is a great shot--shadows and all. IMHO, a shadowless version of this shot would've been bland and depthless (is that a word?) In other words, I LIKE IT! Change your caption to say, "I meant to do this very thing" or "An artistic choice" :)
- Piper L.

See Piper's Premium BetterPholio™

Response 1:Unfortunately (again) I don't know how to change the caption but I get your point. I am very happy with the photo, which is the reason I entered it. I guess I was only justifying the thing on it that I would have liked to have changed (at least made the shadow a bit less obvious). Maybe the judges would never have noticed it if I didn't mention it, eh? Damn... :)
- Tamara K.

Response 2:Here's a little tip on diffusing the light from a built in flash. tape a few folds of tissue paper over the flash. It works fairly well for close up photography when all you have is the built in flash. I have also made a home made "light diffusing box" out of a milk jug. Cut the bottom off the jug, completely cover your built in flash with a piece of thick plastic. Put your subject to be photographed on a piece of velvet and place the jug over the subject. Then put various lights outside the jug (play around with incandesant, flourescent and colored lights), put your lens in the hole in top (You may need to cut it out larger), and snap your photo. The jug will diffuse the light sources and you should get a fairly even light sans shadows on your subject.

I would love to hear if anyone has tried similiar techniques and what their results were. I now have a very nice swivel/bounce/zoom/do the dishes daily (at least I wish it did dishes) flash and still use both of these techniques for some of my macro work. I have never had any complaints on the outcome and have done many pics for local store advertisements and web pics for jewelry.
- Bradley B.

See Bradley's Premium BetterPholio™

Response 3:Bradley, that is so cool! Did you develop these techniques with trial and error? I will have to try that milk jug thing. Excellent tips.
- Piper L.

See Piper's Premium BetterPholio™

Response 4:I just got frustrated when I first started doing serious photography about a year ago. I couldn't really afford extra flashes and stuff (I had just spent $600 on an Olympus C-3000 and a few accessories). I was doing lots of macro work and wasn't satisfied with the shadows, so just started trying different things. You should see my pile of rejects... a round wire frame with a very sheer cloth stretched over it and one of my par-38 can lights (smaller stage light from my band/DJ set up) behind it. Did well from one side, but still had shadows and was too bulky to put one on multiple sides...

- Bradley B.

See Bradley's Premium BetterPholio™

Read this discussion online
Respond to this discussion
New Photo Discussion 5: Lavender Shack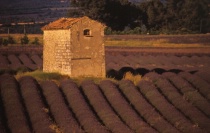 Lavender Shack
A friend lent me his gold polarizer for this shot.

Jim, The textures, colors, lines, contrast and time of day make this lavender shack a winner. Great job.
- Donna R.

Visit DonnaraePhotography.com - Donna's Deluxe BetterPholio™

Response 1:I agree with everything Donna Rae said. This is a really terrific composition! The rich, golden tones and interesting textures make this image look almost surreal. Love it!
- Betsy L.

Response 2:


The Original Lav Shack
Without Gold Polarizer

Thanks very much for your kind comments.

I too loved the rich tones that resulted from this special polarizing filter. I generally shy away from most filters but as soon as I looked through this one, I said "I gotta get me one of those."

Here is an original - so you can see the difference.
- Jim at BetterPhoto.com

See Jim's Premium BetterPholio™

Sign up for Jim's 12 Week Photo-Course

Response 3:Wow, what a difference!!! I love both shots, and I usually prefer the contrast. The original has such perfect coloring and a beautiful clear blue sky to compliment the image, but that polarizer really sets the mood! I think you can make out the texture in the shack more, and I love how the polarized version captured the symmetrical curved lines in the field. I also prefer the tighter crop. The golden hues just really make the image look so dreamy. I think you are right ... you've gotta get yourself one!!!
- Betsy L.

Read this discussion online
Respond to this discussion
Photo Discussions - CONTINUING from Last Week

Continuing Photo Discussion 1: Searching

Searching
My cat looking for mischief

© Christy Rafferty

Hi Christy,
I love this shot. What lens did you use?
- Laura J.

Response 1:Believe it or not I was playing around with a magnifying glass (I did not have a macro or a zoom at the time) with my 50mm.
- Christy R.

Response 2:thank you!
- Laura J.

Response 3:I love this picture, I have five cats of my own and I also love taking pictures so this covers two loves of mine. This cat looks like a cat named Claudia I used to have. Great shot.
- Carrie H.

Response 4:I liked this picture a lot too. Thanks for sharing that you used a magnifying glass to achieve this result. I think it's great to experiment with different techniques, and I think this photo will inspire some of us to think outside the (camera) box!
- Sue B.

Read this discussion online
Respond to this discussion
Continuing Photo Discussion 2: Fall Colors

Fall colors
Fall foilage

© Kathy Meyer

Beautiful fall colors Kathy. Where is this?
- Lisa Y.

See Lisa's Premium BetterPholio™

Response 1:Lilly Lake in Eagle Creek Park in Indianapolis, Indiana. Thanks.
- Kathy M.

Response 2:Nice color and I love the glass lake. I would like to know the camera, lens, and film. Very Nice.
- Bob W.

Response 3:I used a Pentax ZX-5 camera with a wide angle lense from Sigma (28-800) Fuji 100 film, and a circular polarizer for the extra blue in both the sky and water reflection. Thank you.
- Kathy M.

Read this discussion online
Respond to this discussion
Continuing Photo Discussion 3: Moonset

Moonset
The full moon setting on the Pacific at sunrise. Taken from the balcony of our motel room. Nikon N90, Nikon 70-210 zoom. Elitechrome 100.

© Shirley Cross

Hi, Shirley. I'm from Toronto, Canada. I like this shot a lot.
- Ronnie S.

Response 1:Hi, Shirley,

I too like this shot. However, I find the moon to be too bright and too sharp when compared to the rest of the image. It just doesn't seem to fit quite right.

I would like to see the image without the moon, or I would like to see it with the moon fogged or blurred and some of the contrast/brightness removed.

Cheers,
Glenn
- Glenn T.

See Glenn's Premium BetterPholio™

Response 2:Thank you both. Glenn, this is the way the moon looked... there has been no digital manipulation, other than resizing for this venue. Remember, the full moon sets at the same time the sun rises and the moon is reflecting the light of the sun.
- Shirley C.

Response 3:FANTASTIC!! The range of blues, the textures in the surf, and the wisps of clouds across the moon. What a reward for an early riser! (With your skill). +Guy
- Guy B.

See Guy's Premium BetterPholio™

Response 4:Shirley,

What strikes me about this picture is the continuance of the wave patern in the clouds that drift in front of the moon. It's almost as if the big wave in front and some of the smaler ones in the back are reflected on the moon. About the sharpness af the moon, well nature presents itself in its own way.

I wonder what you can do whith a late night shot (smile).
- Jaap Z.

Response 5:Thank you Guy and Jaap, for your enthusiastic comments.
- Shirley C.

Response 6: B E A U T I F U L !!!!
- Laura J.

Response 7:Thank you so very much, Laura.
- Shirley C.

Response 8:I really like this shot. I also like the way the moon is sharp it balances out the texture of waves at the bottom of the shot. Again a fantastic shot.
- Brian

Response 9:Thank you very much, Brian.
- Shirley C.

Response 10:What was it Laura said ? oh yes.

B E A U T I F U L !!!!

D I T T O, D I T T O, D I T T O !

Chuck
- Chuck

Response 11:First of all, I'd be proud to have taken this photograph. Secondly, I see there are different opinions about the moon; I have to agree with Glenn that the moon tries to take over the picture and distracts from those beautiful waves. I know you said that was how the moon looked, with no digital manipulation, so here's my question. Did it look like that "in person" or could it have brightened up with the camera's exposure? I think it's a wonderful photo, but esp in the larger view of the picture, I blocked out the moon with my hand to see the waves better. (This "discussion" is mostly for my own sake - how to expose the moon to keep it muted - can it be done?)
- Sue B.

Response 12:Hi Sue. Yes, it would be possible to artificially mute the moon, perhaps with a graduated neutral density filter, but why would you want to? The moon is the SUBJECT of the photo. If I wanted only the wave patterns, that is what I would have taken. The bright, golden, setting moon is what makes this photo special. If you were taking a sunset, would you want to MUTE the sun...not really, you might want to even your exposure. so that the foreground does not black out. However, this photo has a perfectly exposed foreground, so that is not a problem here.

Shirley
- Shirley C.

Response 13:Hi again Shirley. I'm Ronnie from Toronto, Canada. Your first response - your 100% right. Don't touch it - looks beautiful, it adds contrast, my dear.
- Ronnie S.

Response 14:Thank you, Ronnie!
- Shirley C.

Response 15:Hi Shirley - Thanks for the idea of using a graduated filter! They say that art is subjective; possibly my reaction to your photo came from living where I do. I see the moon all the time, and never get to see waves! Also had an insight when you asked if I would want to mute the sun in a picture of a sunset, and my response was "yes, probably" as I would be more interested in the lighting in the surrounding clouds. My question wasn't meant to insult your picture - like I said, I'd be proud to have taken it. I was just wanting to learn more about how to achieve different effects with different exposures.
- Sue B.

Response 16:Thank you, Sue... I'm not insulted.
- Shirley C.

Read this discussion online
Respond to this discussion
Continuing Photo Discussion 4: Why Sedona Attracts Tourists

Why Sedona Attracts Tourists
This is a view of Wilson Mountain, at mouth of Oak Creek Canyon, Sedona, AZ; shot w/ Olympus C2020Z digital camera; stitched with Panorama Factory.

© Light _

Fantastic. Have to get there one day...
- Doug L.

Response 1:You have clearly demonstrated why a panoramic photograph will often excel over a single 35mm framed shot. Could you please advise me of what version of "The Panorama Factory" you used. I have recently been using "TPF" and also "Arcsoft Panorama Maker 2000" to stitch 35mm images that I've scanned. Also have you had any trouble or difficulty in reproducing or printing your panoramas to a suitable viewing size? Thanks,
- Jeff R.

Response 2:


West Fork of Oak Creek - Sedona, AZ
This is a vertical panorama made up of 5 photos.

© Light _

Thank you Jeff. I use Panoramic Factory version 2, put out by Smoky City Design, and you should be able to download it from the most popular software sites: download.com, tucows.com or zdnet.com. While I have had no difficulty stitching multiple photos, I do have to remember to move the camera only about 1/3 of the distance that I see through my viewfinder/LCD window and reshoot. I use Photoshop 6.0 for editing my photos, including the panorama shots once they are stitched. I resize my photos according to the 'inch' dimensions that I want presented on the internet, so I try to keep my pans below 20 inches in the longest measurement (either width or length). Hope this helps. Again, thanks for your comments. I am enclosing a vertical pan for your viewing.
- Light _.

Response 3:I was recently in Arizona for the first time and visited the same area (among others) as the photo shown above. I can't begin to describe the beauty of the landscapes around the Sedona area, including the Oak Creek Canyon.

I strongly suggest that you visit the OCC and take the West Fork Trail - make a day hike out of it and you'll be rewarded with the vistas and the changing textures throughout the day - the change in lighting is something else as you return on the trail. You won't believe the fluorescent nature of the trees along the trail.

As far as Sedona itself, make sure you dedicate a couple of hiking days there - get a trail map from the ranger station, as we thoroughly enjoyed the trek around the Doe Mountain region. You'll pay a regional 'park fee' but it's well worth it. Just be prepared for a rocky ride getting to the trails. The vistas are something you have to stop and absorb - photos cannot describe the feeling you get looking at the surrounding landscape (including the incredible blue sky).

Don't overlook the northbound drive to the town of Jerome - there's a great vista shot as you wind down the mountainside. Finally, I suggest you pack the photo equipment (ensure you carry a 28mm or 24mm in the bag) and aim the car for Canyon de Chelly - a spectacular visit with a bonus hike down the White House trail on the south rim.

I found the best results from using Velvia and some E100VS - you don't have to underexpose these films to capture the incredible contrast of Arizona's landscapes.

I'll be back Arizona - more time around Sedona, the Grand Canyon and de Chelley.

You need only see these areas in Arizona to understand Why Sedona Attracts Tourists.

Here's a question for those of you in the Toronto region - where do you get the best Cibachrome (Classic) printing?
Thank you.
- Alan

Read this discussion online
Respond to this discussion
Continuing Photo Discussion 5: View in Kappadokia - Turkey

view in Kappadokia - Turkey
canon rebel 2000 camera 28-200 sigma lens

I think your photo is very quiet and beautiful. The lighting is awesome.
- Denise M.

Response 1:Stunning!!! This is magical... Was it touched up at all?
- Ella B.

Response 2:Hi Ella
I am glad you like this image because I like it too.

It was not touched. It just happened that the sun was shining on this special spot...
- Ilana P.

See Ilana's Premium BetterPholio™

Visit IlanaPeled.com - Ilana's Deluxe BetterPholio™

Read this discussion online
Respond to this discussion





The Next Step: Where to Go From Here



If you would rather not receive PhotoFlash, you may unsubscribe at:
http://www.betterphoto.com/subscribeun.asp

To change your email address, visit:
http://www.betterphoto.com/subscribeCOA.asp

~~~~~~~~~~~~~~~~~~~~~~~~~~~~~~~~~~~~~~~~~~~~~~~~~~
Copyright 2001 BetterPhoto.com - All Rights Reserved. No part of this newsletter may be copied or published without prior permission. You may, however, forward the newsletter in its entirety to friends and family.